Landscape design in a rainy climate doesn't seem as fun or inspiring as it does in a hot climate, but it certainly can be. The satisfaction of having a beautiful outdoor space that looks appealing in all climates can be huge, and it's great for entertaining guests. Here's our top tips on planning your landscaping for a rainy day.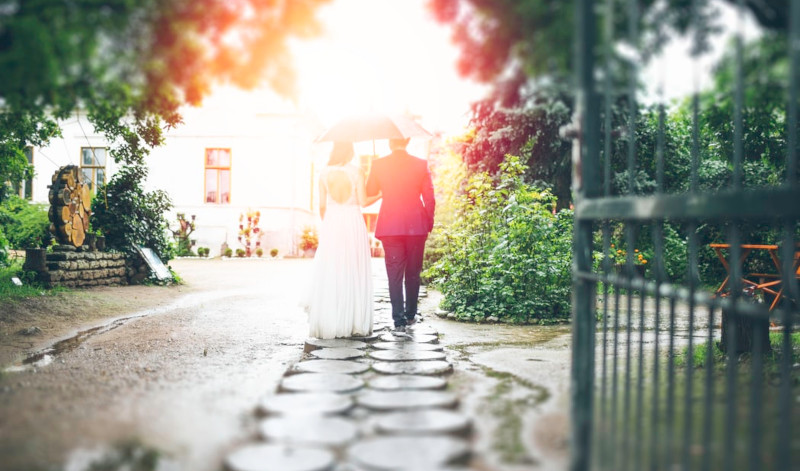 Cover the basics
You need to start with an assessment of your space, soil, and existing plants. Make sure the soil will drain well and not sit waterlogged, especially once you introduce design elements that will change the natural water flow. Likewise, you want plants that will enjoy the wet conditions. It's going to be important that you keep the soil aerated, and introduce plenty of compost to make sure drainage stays on point and soil doesn't compact over time.
Design smart, not hard
Raised beds are another great way to make sure the soil stays well-drained for plants, no matter how much it rains. Plenty of plants thrive in moist conditions, so don't worry that you won't have the colors and textures to make your garden pop. Some great examples of moisture-loving plants include Hydrangea, Winterberry, and Black Chokeberry. Marsh marigolds, with their bright yellow flowers, canna flowers in a riot of tropical colors, and the eye-catching red of cardinal flowers are a must. Lily of the valley is not pet-friendly, but can provide a beautiful flowering groundcover, while chameleon plant and blue star creeper also offer lovely alternatives.
There's hundreds of moisture-loving plants that will add beauty to any rainy outdoor space, and with raised beds, you also make your garden more pleasant to work in during wet conditions, since you don't have to stoop or kneel in the moisture.
Pick smart materials
Once you've planned around plants and improved your soil, it's time to get smart about the solid materials you'll be using. Wooden edging will not have the staying power of concrete, for example. Today's pavers and garden design elements can be found in a wealth of color, shape, and texture, so you're sure to find the perfect look.
It's key to incorporate good drainage into the landscaping plan. Especially if you know there's existing trouble spots. A smart use of simple designs like french drains and drainage pavers can seamlessly create a space that both looks great and works practically as well.
Lastly, for patios, pavers, and other artificial surfaces, add a little texture to the top surface to enhance grip. This is not the place to showcase granite or marble, where a slick surface can lead to injury. Save marble for the kitchen counters, and instead, look for textured surfaces or items designed especially to enhance grip in wet weather conditions, especially for high-traffic areas. While it can be difficult to maintain a lawn in continuous wet weather spells (especially if you have active pets), there are tough and moisture-loving ground covers that can fill in and prevent bald muddy patches. As an added bonus, many don't need regular mowing, either.
It's more than possible to create a beautiful outdoor space in a wetter climate. All it takes is some design smarts and a little creativity!