Small sheds can be a great addition to a house, both aesthetically and practically. If you design a shed with both looks and a clear purpose in mind, you are likely to end up with a shed that looks great and fits all the things that you have no place for inside the house.
But what are you supposed to put in a shed? After all, the amount of space in any shed is limited at best, and you do not want to clutter it with so much equipment that entering it becomes difficult. Perhaps the best approach would be to simply use it to store only the absolute necessities that you need for gardening, as well as devices that are too big to be stored elsewhere.
Ideally, tools and equipment like a portable generator, pesticides, a chainsaw, a lawnmower, bags of fertiliser, gardening tools such as shovels and rakes, and personal protective equipment all should find a place in the garden shed. Do you want to know why? If so, read on!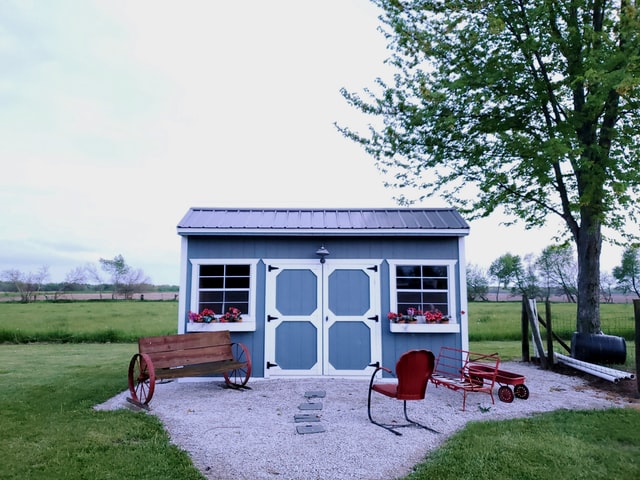 A Portable Generator
A portable generator is a very handy device to have in a garden shed, particularly if you live in an area where power outages are frequent. Such a generator is relatively inexpensive, easy to maintain, and can be started up with just one push of a button.
If you do not own a portable generator, it is recommended that you look for the best portable generator in the price range that you are interested in. Other than that, you will need to keep it clean and in working order, as an old and faulty generator is likely to break down when you need it the most.
Last but not least, if the generator does end up breaking down and you do not know how to repair it, consider looking for a manual online or hiring a repairman to do it for you. That way, you will not have to worry about doing something wrong during the maintenance process.
A Lawnmower
A lawnmower is something that you should definitely store in the shed, especially if you want to have a lush and lovely lawn. You have hundreds of different models to choose from, ranging from small ones to big, heavy-duty ones that will take up lots of space in your shed. So, before you make a purchase, try to figure out what kind of model will both suit your needs and fit in your shed. Otherwise, you might end up with a cumbersome machine that takes up too much space.
Gardening Tools
Obviously, gardening tools are an absolute must if you are a gardener. While it might seem like a boring necessity for the majority of people, such tools can be incredibly convenient to have around. However, in order for the said tools to stay functional, you might want to invest in high-quality ones, as such tools tend to last longer.
Protective Equipment
While it might not seem like it, personal protective equipment items, such as gloves and masks, are extremely important to have for gardeners and DIY enthusiasts alike, protecting you against dirt and dangerous substances, as well as cuts and insect bites. If you do not know what equipment you should invest in, purchase a few basic things, including gardening gloves, regular rubber gloves, a pair of sturdy shoes, and a wide-brimmed hat.
A Chainsaw
A chainsaw can be a really useful tool, especially if you want to make a few changes to your garden, such as cutting down an old tree or making a small pathway through some thick bushes. While a chainsaw does require a lot of maintenance and is quite heavy, it is also incredibly useful and versatile, making purchasing one completely worth it.
So, keep one in your shed, but make sure you know how to use it without injuring yourself or someone else. It is also smart to invest in some hearing protection that you can put on while using it. After all, you can never be too careful with your eardrums!
A Few Bags of Fertilizer
A few bags of fertiliser are a necessity for a gardener, as they can help you keep your plants healthy and beautiful. However, bags of fertiliser can be quite heavy and bulky, which is why it is best to keep them in your shed. That way, they will not take up space inside the house. If possible, go for a complete fertiliser with twice as much phosphorus as potassium or nitrogen. It is easy to find and will do just fine for a vast majority of plants.
Pesticides
Pesticides are a hazard to everyone, especially children, so it is best to keep them in your shed. Keeping some in your home is dangerous, as they can be mistaken for something edible or drinkable. Still, in spite of how dangerous they can be, pesticides are very useful in keeping certain bugs at bay and preventing them from attacking your plants and flowers, which is why it is important that you keep some on hand.
Supplies for Animal Feeders
If you want to set up animal feeders for birds and other wild animals in your garden or have already done so, it is recommended that you keep supplies for the said feeders in your shed! If possible, keep them in closed plastic containers. Otherwise, they might end up attracting unwanted pests, such as ants, meal moths, and beetles.
In Conclusion
The things listed above are what you absolutely need to have in your shed at all times. However, it does not mean that you should just dump everything in the shed and call it a day. Instead, keep things clean and organised so that you do not have to spend hours looking for something that you need. Not only will it save you time, but it will also help you avoid accidents and injuries that can occur when things get messy and disorganised. Good luck!