It's not always easy to know how to decorate a small apartment. While hiring an interior designer can be a quick and easy solution, it's expensive at around $5,406 on average. Fortunately, it's totally possible to make a small apartment look and feel bigger on a budget. With some simple yet stylish changes, you can open up your space without breaking the bank.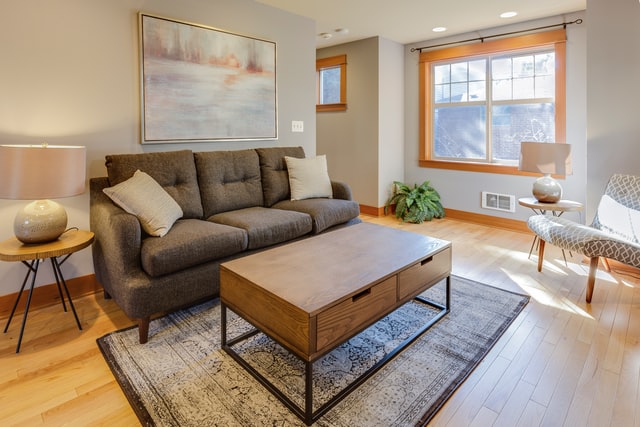 Use mirrors
Mirrors are an easy and effective way of adding light and depth to your apartment and making it feel bigger than it really is. By reflecting both natural and artificial light, they can make your space look brighter whether it's day or night. For best results, place your mirrors on darker walls or in dim corners that don't get much natural light. You don't even have to hang your mirror; an oversized, leaning mirror, for example, can add light and brightness while making a bold style statement. Similarly, opting for furniture like a coffee table or side table with a mirrored or glass top can also work well at making the room feel more open.
Add wall art
Wall art is a great way to inject life, interest, and color into your apartment, which in turn can help your space feel bigger and brighter. Ideally, opt for a large, single statement piece of art on just one wall in each room. Gallery walls composed of many different pieces of art, on the other hand, can easily feel cluttered and overwhelming in a small space. The choice of frame also plays an important role in a room's overall look. A classic polished picture frame, for example, works well to show off your art and reflect surrounding light. And, if you're worried about using nails in your apartment, wall-safe adhesive strips and hooks are a great alternative.
Get creative with lighting
While nothing beats natural light for opening up a space and making it feel bigger, artificial lighting can be a great replacement. Plug-in wall lights, in particular, can enhance dim corners or recesses. By adding a plug-in wall light to either space beside a chimney breast, for example, you can instantly make your room feel wider. Also, never just rely on a single light source in one room as this creates a harsh, uneven atmosphere. Multiple light sources spread around the room will open it up while creating a harmonious ambiance. And, if you do have good natural light, be sure to make the most out of it. For example, sheer, lightweight drapes can help your space feel airy and bright. Alternatively, pulling any window coverings back completely will help you flood your apartment with maximum natural light. Some strategically-placed flowers or plants around your windows can also be used to distract from an unappealing view.
Making a small apartment look and feel bigger doesn't have to be complicated, expensive, or labor-intensive. By using mirrors, adding wall art, and getting creative with lighting, you'll be able to successfully open up your space.