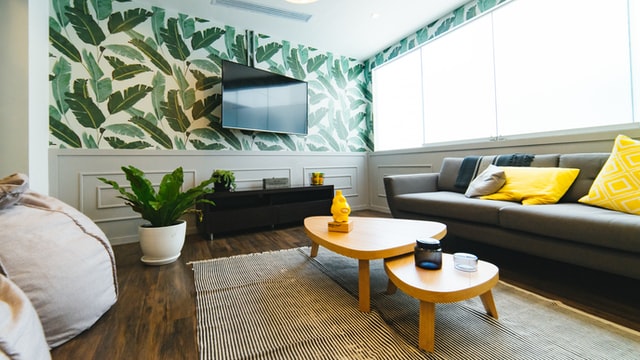 Fortunately, spring is just around the corner, so it is high time to start planning interior design updates. While adding a few bright accents can help to brighten up any house and make the entire place look as cozy and welcoming as possible, it can also inspire you to come up with interesting goals and grow as a person, ranging from purchasing Palmetto Bluff real estate to losing a few pounds. After all, spring is the time of plans and projects, so why not usher it in with a number of colorful upgrades?
Below, you will find several refreshing interior design ideas that will help to make your house look much more inviting. They will range from investing in a bohemian accent rug and opting for flowery wallpapers to buying additional houseplants, installing open shelves in the kitchen, and choosing bright yellow accessories. Take a look!
Bohemian Accent Rug
If you feel like your house needs a bohemian vibe, you are in luck! Placing a bohemian accent rug in a room is one of the easiest ways to get the look that you are after. However, there are quite a few things that you need to know about choosing an accent rug. If you do not take the said things into consideration, you are likely to end up with a rug that does not fit your needs.
First, you need to figure out what size is appropriate for the room that you want to put the rug in. If you want to put the rug in the living room, you want the rug to be longer than the sofa. If you are planning on putting the rug in the dining room, it should be larger than the dining table.
Second, you should think about the color. It is important that you go for something that matches the rest of the room that you want to put the rug in. For instance, if your living room is all about warm colors, such as red, gold, and magenta, you should go for a rug that features warm colors as well. Otherwise, the rug will end up looking out of place.
Flowery Wallpaper
Bringing nature-related things inside the house is a great and easy way to welcome spring. For example, you could invest in flowery wallpapers to transform any room in an instant. Of course, a great-looking wallpaper is not cheap. If you do not want to break the bank, it is recommended that you shop around and compare prices between different stores.
It would be best if the paper that you went for matched the overall style of your house and the type of ambiance that you are trying to create. An old-fashioned and pale wallpaper will definitely not look great when paired with a contemporary interior filled with bold patterns, bright colors, and metal furniture.
Add More Houseplants
If you do not own any houseplants, it is time to change that. Just two or three plants can bring life and peace into an otherwise boring house, which is why investing in a few houseplants is another perfect way to introduce spring into a house. If you are not an experienced gardener, opt for houseplants that are resilient and not that demanding when it comes to sunlight exposure, such as jade plants, aloe vera, cacti, ponytail palms, snake plants, and panda plants.
Install Open Shelves in the Kitchen
If you do not want your kitchen to look bland and boring, it might be the right time to buy a few open shelves. Such shelves will help you declutter your kitchen but will not make the entire room feel smaller and darker. Moreover, it gives you plenty of space to showcase various decorative items and cookbooks, which can really add to the overall look of any kitchen.
Choose Bright Yellow Accessories
Bright yellow accessories are visually striking and will help you create an uplifting and happy atmosphere in your home. What is great about bright yellow accessories is that they can work wonders in both modern and traditional homes.
So, if you want to try something new but do not know where to start, opt for a few bright yellow accessories, such as throw pillows, vases, or curtains. Such decorative items are perfect accent pieces that can add to any space without overpowering it.
Go for Mismatched Chairs in the Dining Room
Last but not least, upgrade the dining room with mismatched chairs. It might seem like a small change, but it can really transform the ambiance of the entire room and prevent you from having to spend thousands of dollars. The idea is simple - buy a few chairs that do not match but still look great together and put the said chairs in the dining room. Doing so gives you plenty of space to express yourself and experiment with different patterns, fabrics, and color palettes.
If you do not feel like spending a lot of money, consider shopping around for upcycled furniture online and visiting antique stores. That way, you should be able to find plenty of chairs that are both unique and affordable!
In Conclusion
Spring is just around the corner, meaning that it is the perfect time to liven up your house and breathe life into it. Changing things up a bit will do wonders for your mood, as well as for the ambiance of the entire place. If you do not know where to start, go ahead and give the ideas listed above a try! You will definitely love the results.