Moving to an apartment that is smaller than the home you currently live in comes with a unique set of challenges. Should you make peace with leaving most of your belongings behind? Or should you attempt to fit them all into the new place through sheer determination and superior Tetris skills? As you can imagine, the secret to organizing your stuff in your new home lies somewhere between the two extremes.
To help you maximize space when moving, we've asked Oz Moving & Storage for a few tips. The tips they shared with us will undoubtedly be useful to you.
6 Useful Tips for Making the Most of a Small Apartment You're Moving Into
1. Declutter and Downsize Before You Move
Before you start packing for the move, you'll need to decide what's coming with you. Whether your new home is the same size as the one you're leaving or smaller, a move is a great opportunity to reassess your material possessions.
With that in mind, you need to figure out which items you really need. Focus on bringing the ones that are useful or at least ones that make you happy. If something doesn't check off those boxes, you can either:
Give it to friends or family
Donate it to a local charity
Sell it on Facebook Marketplace or other similar platforms (or just organize a yard sale)
Throw it away (depending on the types of items you're looking to get rid of, you may even find a curbside waste pickup company to take them off your hands)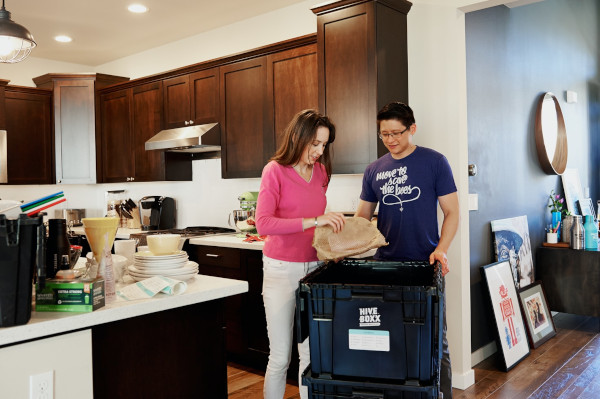 As you go through your things, you're bound to come across a drawer or box full of important documents. These would include receipts, warranty papers, appliance manuals, and other similar files. Most of that stuff will maintain its value even when you scan it. So, digitize it all and recycle the paper.
2. Label Your Boxes
When you have determined which of your belongings will be coming with you, you'll want to start packing them up. Generally, most people label their boxes, suitcases, or trunks with the name of the room the items inside came from. There's an understanding that the movers will be able to deliver them into the room's equivalent in the new home.
However, the small apartment you're moving into may not have all the rooms you have in your current home. With that in mind, you'll want to label the boxes based on the rooms in your new home. That will make it easier to unpack efficiently later on.
While you're packing, you're bound to come across various superfluous items you simply can't part with. These could be old books you don't want to give away, seasonal decorations, or even documents you don't need to have on hand. Get separate boxes or bags for those — we'll talk about what you can do with them later on.
3. Unpack Immediately
Once the movers start bringing your stuff into your new apartment, they'll pile up quickly. That's why you'll need to start unpacking everything as soon as you step through the door. Otherwise, you run the risk of having to step around cardboard boxes for the next few months.
To begin with, you should assemble or arrange the biggest pieces while the clutter is still in the boxes. After the couch, bed, table, and TV are where they need to be, everything else will fall into place more easily. Ideally, these big items should be positioned against the walls, so you have room to move around.
Now, you'll have another chance to decide which of your belongings you really need. If anything feels like it doesn't have a place when you take it out of the box, set it aside. When you finish unpacking everything else, put all those miscellaneous items into a box.
4. Invest in Vertical and Multi-Purpose Furniture
If you ever find yourself thinking that you couldn't possibly find a place for one more object in your new apartment, keep your chin up. Literally - you're bound to find more space if you look up.
Vertical storage is the key to making tight living quarters work. So pick a wall and put up some floor-to-ceiling shelving. To keep things more manageable, you can use decorative boxes to organize the stuff you have on those shelves.
You can put more hanging storage on the back of your doors or use furniture that doubles as storage. For example, you can have:
A trunk in place of a coffee table
An ottoman that has a secret compartment for blankets
Wall-mounted shelving that can double as a fold-away desk
Alternatively, you can just utilize the space you have. So if you happen to have a tall bed frame - put your winter clothes in boxes underneath it.
5. Use Decor Hacks to Make the Place Seem Bigger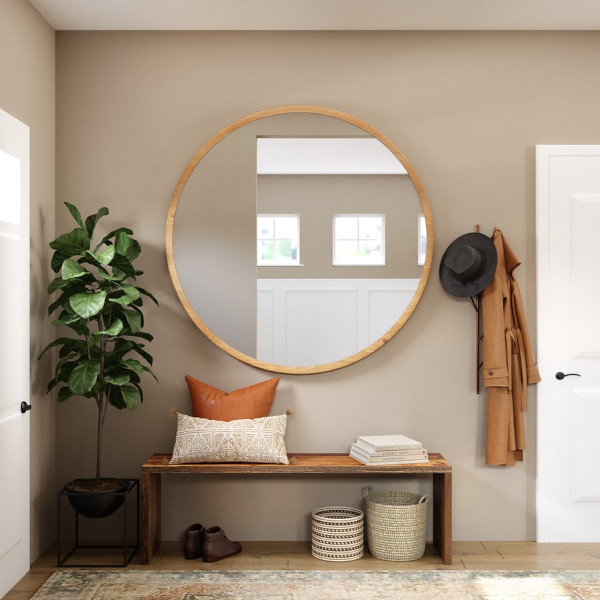 While you're making your new apartment into a proper home, you might find yourself wishing it was a bit bigger. An open-concept space will certainly look larger than a home with a closed floor plan. Additionally, large windows have a way of making a place feel brighter and larger.
If your apartment lacks those architectural elements, there are plenty of ways to make it appear more spacious. Even simply sticking to a light color palette while decorating can have a huge effect. At the very least, you should keep the walls white or pastel-colored.
You can also use mirrors to add brightness to your apartment and visually extend the walls. Additionally, certain decorative pieces such as lighting fixtures or plants can add interest to the space.
On top of that, bigger pieces of furniture can also be used to make your apartment seem larger. Namely, semi-open furniture, like backless bookcases and chairs with exposed legs, will instantly make your apartment look bigger.
Unfortunately, these kinds of pieces usually lack the multifunctional features we have previously discussed. After all, you can't have an ottoman that doubles as storage if it has exposed legs.
6. Store Extraneous Items Outside of Your Home
Last but not least, let's talk about dealing with all those things that don't have a place in your new home. There are several things you can do with things like seasonal clothing, decorations, old books, and other items you don't use too often. You can:
See if your new apartment entitles you to any additional storage space in the building
Ask a friend or family member to keep your stuff at their home if they have the extra space
Rent storage space
With that, your move will, at last, be complete. Now, you can enjoy your new home without having to look at piles of boxes.
This article was published on 12/22/2021.