How to Avoid Staging Your House in Georgia During COVID-19
Home staging has become a "must-do" for home sellers in the U.S. This crucial step of the traditional home selling process can increase your home's selling price and convince potential buyers to purchase the property.
Home staging refers to preparing your home for sale in the market. Staging a home aims to make it as appealing as possible to the highest number of potential buyers. This process often includes cleaning, decluttering, adding decor, and reorganizing spaces.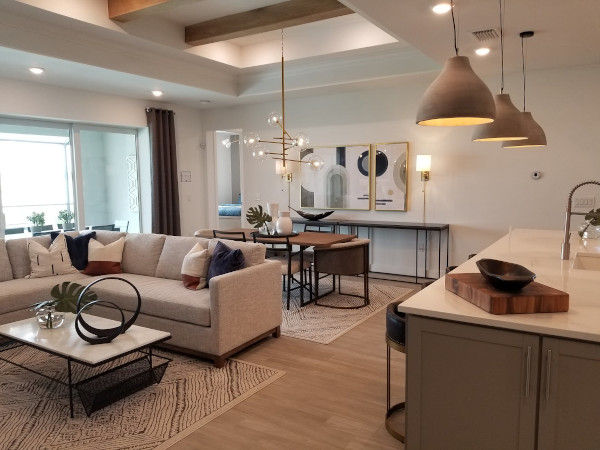 Is Staging Your Home During COVID-19 a Good Idea?
Home staging can work as an effective marketing strategy to sell your home quickly; however, staging a home amid a pandemic is not worth the risk. This technique, which integrates decorating with marketing, involves a lot of money, time, and effort. And, in times of COVID-19, staging a home represents a threat to your health and wellbeing.
These days, many home sellers don't want to risk any nonessential contact by hiring a professional stager to rearrange their belongings around or even bring in outside furniture and decor to improve their home's appearance.
Cons of Staging a Home:
It's expensive: A professional home stager charges between $300 to $600 for an initial design consultation and up to $600 per month per staged room. Besides paying the stager, you will also have to pay for the rental for furnishings and decor while the home remains unsold.

It takes time: Staging a home can take from 8 to 18 hours. However, cleaning, decluttering, and repairing your home previous to the staging process can take even more time.

It's risky: Hiring a professional stager during a pandemic can risk you and your family's health.
Social Distancing
Practicing social distancing means purposefully creating space between yourself and other people who are not from your household to stop the spread of illness. In the case of COVID-19, the recommended distance is 6 feet, about two arms' length.
Practicing social distancing may include staying home, keeping a safe space from another person while in public, canceling events, avoiding having people over, closing schools, and working from home.
Home Showings
Having a stranger visiting your home at odd times can be inconvenient, uncomfortable, and unsafe. The primary purpose of home staging is to prepare your home for showing and open houses. However, letting several buyers into your home can get you and your family exposed to the virus.
Skip the Home-staging Process: Sell Your Home to Home Buyers
Staging a home can be a complicated, time-consuming, and expensive part of listing a home. Fortunately, there are other, safer, and faster ways to sell your home during COVID-19.
If you have found yourself googling "sell my house fast Cumming, GA," consider selling it to a trusted home buying company. Selling to homebuyers is an excellent way to get cash from your home without spending much or exposing your family to COVID-19. Home buying companies purchase houses fast and in as-is condition. They aren't real estate agents trying to list your home; they're the ones buying it.