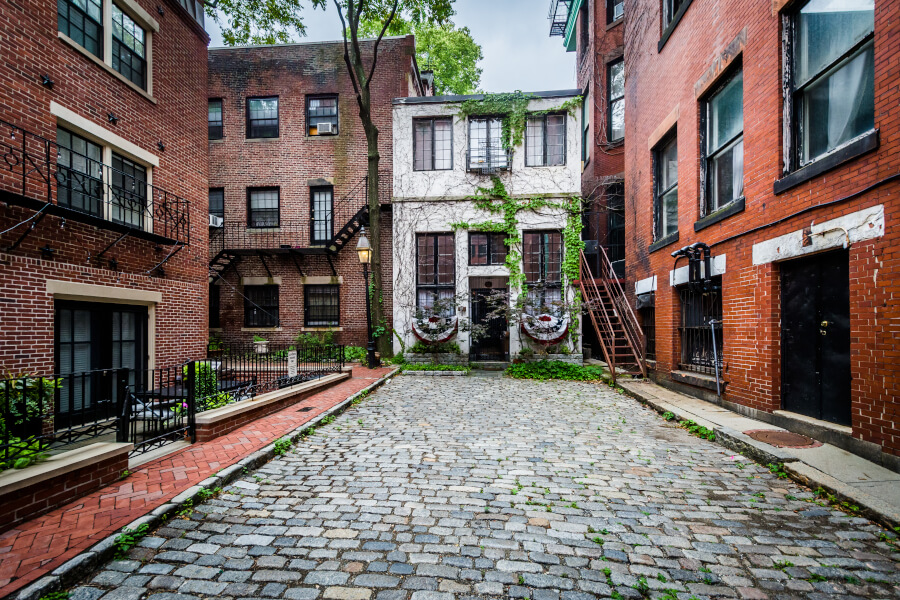 Landlords and property owners in Massachusetts are legally obliged to disclose certain types of information to prospective tenants. Federal, state, and local disclosure requirements apply. Landlord disclosures inform tenants about rules, facts, and policies that pertain to a given property. Continue reading to learn about the specific landlord/tenant disclosures that are mandatory in MA.
Lead-Based Paint Disclosure & Certification
Dust and chips from lead-based paint are toxic and can cause serious health problems for people exposed to them. Even microscopic particles of lead can be inhaled or ingested without the person's awareness. That's why it's important that prospective tenants be made aware of the possible dangers of an older home that was painted with lead-based paint in the past.
Massachusetts rental law requires that landlords disclose information about the possibility of lead exposure to all prospective tenants for homes built before 1978. A signed lead paint disclosure form ensures that the landlord performed due diligence to inform the tenant about the possible danger of exposure.
Security Deposit Receipt & Disclosure
When a new tenant moves into a rental home in Massachusetts, the landlord is only allowed to charge for:
First month's rent
Last month's rent
Cost of having new locks installed
Security deposit no greater than one month's rent
In Massachusetts, an initial rental agreement deposit must be placed in an interest-bearing MA bank account that is separate from the landlord's personal funds. The landlord must provide the tenant with a tangible receipt for the deposit within 30 days of receiving it.
Property managers and landlords are required to submit a Security Deposit Receipt & Disclosure that verifies the payment of a security deposit, the location of the rental unit, the banking institution where the security guarantee is deposited, and the interest rate the deposited money earns.
Toxic Mold Disclosure
The Massachusetts Sanitary Code lists provisions that focus on the underlying sources of mold, mildew, and moisture problems. The Code mandates that livable structures:
Maintain sufficient ventilation in all habitable rooms plus bathrooms
Be fitted with weathertight building elements that keep moisture outside
Utilize smooth and impervious surfaces and accessories in kitchens and bathrooms
A Toxic Mold Disclosure form permits a landlord or property manager to document pertinent details related to mold, mildew, or moisture in the structure to be rented. A tenant copy ensures that the tenant has been informed about potential adverse health effects associated with mold.
Asbestos Disclosure
Massachusetts landlords are required to provide Asbestos Disclosure forms to any tenant leasing a rental unit constructed before 1981. Note that the United States Environmental Protection Agency (EPA) does not mandate that asbestos is remediated in the structure, only that the property owner or manager disclose the possibility of its existence to prospective renters.
The disclosure form warns tenants that the structure may contain asbestos. It also provides information about the proper way to hang wall ornaments, handle water leaks, or other scenarios that may cause the release of hidden asbestos particles.
Massachusetts Statement of Condition
Landlords in MA are required to provide written statements to tenants concerning the condition of given properties. A Statement of Condition Disclosure form outlines all current damage to the rental unit before a tenant moves in.
The landlord is able to list the condition of each room, along with any side notes he/she feels necessary to enhance the tenant's understanding. Landlords are required to present a completed and signed copy of this form within 10 days of the tenant providing a security deposit.
HUD Bed Bug Guidelines
The United States Department of Housing and Urban Development (HUD) Bed-Bug Notice H 2012-5 provides information about how to prevent and remedy bed bug infestations in all multifamily housing structures in active agreements with:
HUD-Held
HUD Insured
Section 202 or 811
HUD Use Agreements
Capital Advances or Direct Loans
Project-Based Rental Assistance contracts
Note that this informational document is not a mandatory disclosure requirement, but rather, an educational guide to help tenants deal with the possibility of a future bed bug infestation.
The guide provides website links and other relevant sources of information that can be helpful for both landlords and renters. It also informs property owners and management agents with guidance about their responsibilities concerning bed bug infestation.
Learn More about Massachusetts Landlord Disclosure Requirements
If you are a Massachusetts landlord or property manager searching for a simplified way to stay in compliance with required disclosures, you're not alone. EZLandlordForms makes it fast, easy, and affordable to print out state-specific Massachusetts lawyer-written rental agreements and disclosure forms, https://www.ezlandlordforms.com/documents/massachusetts-lease-agreement-with-ezsign-142946/.
Their convenient rental agreement forms, disclosure forms, tenant screening forms, and other tools will help you to forge solid foundations for mutually beneficial and legally binding tenant/landlord relationships, ensuring that you and your properties are compliant and protected.