Adding flowers and plants to your home is a great way to give the space a touch of life and color. However, decorating your home or apartment goes beyond getting a few potted or hanging plants and faux or real flowers and placing them anywhere in your home.
There are a few design elements that you need to consider when decorating your home with flowers and plants in order to do it like a pro.
1. Placement
Where and how you place your flowers and plants can make a big difference in how they look. You want these decorations to be seen and enjoyed by everyone in your home, right?
So, you should place them in an open space with plenty of light to help them bloom and grow properly.
Tall plants should remain on the floor or in the corners. Medium-sized plants and flowers should go on the window sills while the small ones look good on shelves or cabinet tops.
Again, when arranging your decorative pieces, don't overcrowd them in a single space. Be creative with your placement! Add some hanging plants and place others vertically or horizontally depending on the available space to create an attention-grabbing look.
2. Size
Another important design element to consider when decorating your home with flowers and plants is size. You don't want to overcrowd your space with too many large plants or numerous tiny flowers that get lost among the furniture.
Try to select a variety of sizes for intrigue and style. Different-sized flowers and plants also create a balanced look.
When considering the size, don't only focus on the height of the plants or flowers. It's also important to consider the size of planters, pots, and container accessories-the leaves' pattern and size matter too.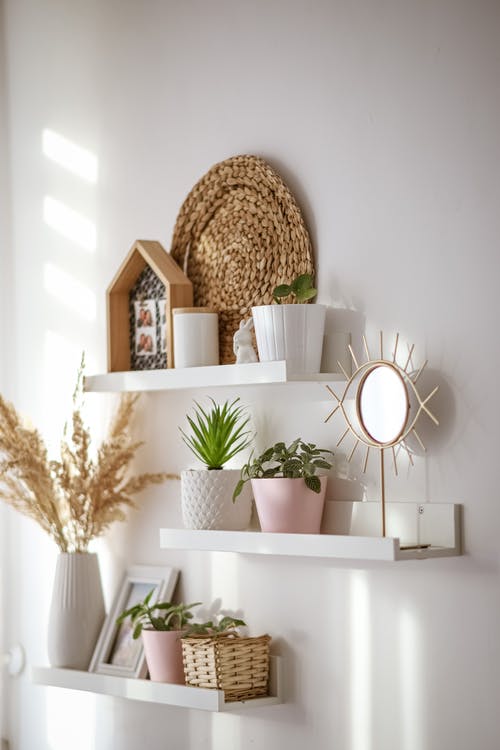 3. Color and Style
When selecting plants and flowers, think about your home's overall color scheme and style and choose flowers that complement it. For example, if your home has a lot of earth tones, you might want to choose plants with green or brown leaves.
If you want a more vibrant look, opt for flowers in bold colors like red or yellow. However, it's advisable to mix different complementary colors to create a more defined look.
On the other hand, choose sleek plants with simple lines if your home has a modern and minimalist style. For a more traditional or rustic feel, go for plants with more ornate leaves and flowers.
In everything you do, ensure the flower and plant style you settle for blends well with the rest of the décor in your home.
4. Type of Flowers or Plants
Finally, you need to think about the flowers and plants you want to use. There are different types of flowers and plants available, so take some time to research which ones would work best in your home.
Consider the climate in your area and choose plants that will thrive in that environment. Also, don't pick flowers and plants that demand more care and maintenance than you have time for.
It's also important to consider the scent of flowers and plants. Remember, scent can either make or break a space!
If you are in Denver, Colorado, you can visit flower delivery Denver for a wide selection of fresh bouquets. Flower delivery Denver offers same-day and next-day delivery for selected bouquets.
Bottom Line
With a little bit of planning and the right choice of flowers and plants, you can transform your home into an inviting and cozy space for everyone. If you're looking for more ways to furnish your apartment inexpensively, consider incorporating flowers and plants into your décor.
Keep moving or replacing your flowers and plants regularly to create a fresh look