Not everyone realizes the potential of a small kitchen, but even in the smallest of apartments, this space can be a fully functional space. If you live in a small apartment, your kitchen can be cozy and functional at the same time: it just takes a little clever design. Create the kitchen of your dreams in your apartment by making it comfortable, functional, and strategically designed to maximize space.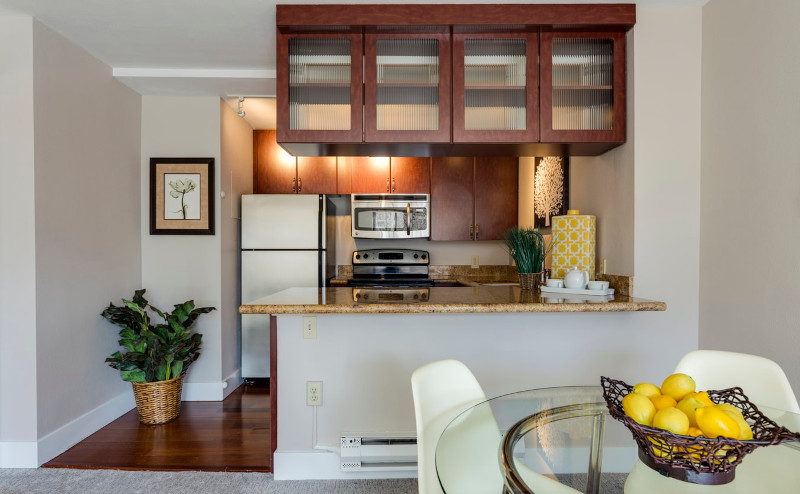 Adaptable Furniture
In small a space, the furniture must be consistent with the environment; that is, you should only choose furniture that adapts to the dimensions of the space, or there will be a sense that the furniture is too large. Cabinets with doors made of glass or clear materials will help your kitchen look more spacious and uncluttered. Built-in furniture that will adapt to your needs is key too: look for foldable dining tables and kitchen islands that can be built into the wall and folded away when they're not needed. This is a practical option that will not take up much space.
Making The Most Of The Walls
Take advantage of all the surfaces that you have available on the walls to install shelves. These will be perfect for locating dishes, spices, and other kitchen utensils, allowing you to keep precious counter and table space clear. Look for floating shelves too: these make for a clever use of wall space without the need for doors. This way you will have everything organized in the kitchen. Once you have shelving in place, consider adding wall hangers: these will help you to keep everything from kitchen towels to spoons and tongs at hand while you cook your favorite dishes
Ambience And Style
To make the most of the light in your kitchen, it is good to take into account the windows and how much natural light occurs during the day. Be careful not to block the windows to ensure the maximum amount of light enters your space - if you're lucky, perhaps you even have beautiful Boston landscapes to enjoy while you're cooking. You can also install pendant lamps with white light to enhance the style of your kitchen. A kitchen ceiling fan with light features attached will look great in the middle of your kitchen, and will allow you to improve air circulation without taking up additional space. This will create a rustic style, and give your kitchen an open feel, since the light will flow naturally.
A final point to be considered is the wall decoration. Walls should have neutral colors: white or pale grays and creams work best in small spaces. If you choose dark colors, the kitchen will look smaller, while neutral colors will help you illuminate your kitchen and make the space seem bigger.
With these practical and simple tips, you can make the most of your small kitchen. Remember that the kitchen is where we spend the most quality time with our families, and what better way than to hang out in a space designed for your own specific needs?