For many house-owners, their property is a source of much pride in their lives. After all, whether you built your house from the ground up or spent months remodeling an already existing building, you have to put in enormous effort so that the house is the perfect space for your needs. So, if you want to show off a little and give a house tour every time someone new visits, nobody should blame you.
The first room that everybody will see is your living room, so you need to be particularly meticulous about its design. What if you do not have any ideas about how to arrange the space, though? You could opt for bold-colored furniture, a monochromatic color palette, and a full-wall window, as well as a mirror collage and a bookshelf wall.
Designing is not a very straightforward process, and you will have to carefully plan to ensure that everything creates a cohesive interior. If you need some extra inspiration, here are some awe-inspiring living room ideas that will leave your guests in awe!
Go Monochromatic
Monochromatic design is a great choice for living rooms, as it is easy to pull off. However, for that to happen, you will need to ensure that all the colors that you go for are from the same family. That way, it will be easier for you to keep your living room's design cohesive.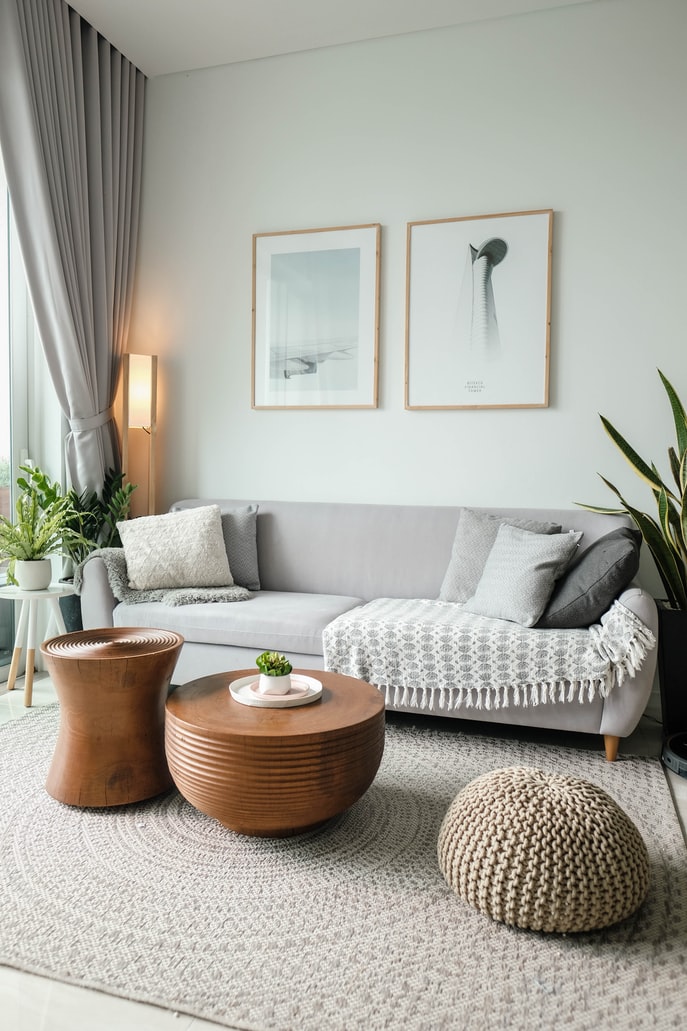 Ideally, your furniture should be of the same tone. You can choose different hues for accessories and decorative pieces. For example, if you have a white sofa, opt for ivory décor items. And if you want to add a pop of color, make sure that it fits the monochromatic color scheme. For white, you could pick natural colors like gray and brown. Alternatively, you could add a bit of gold here and there. To make this task easier you could check an offer of an online furniture store, so that you won't even have to leave your room.
Add a Splash of Bold Colors
You could add to the wow factor of your living room by adding furniture in a bold color palette. For example, a burgundy lounge suite placed among light colored walls will certainly keep the focus of anybody who enters the living room. Add a few white, gray, and pink elements around the room for design cohesion, and you should be able to impress any and all potential guests with ease!
If you feel creative, you might want to go for the eclectic style. It is characterized by the use of colorful furniture pieces from a variety of periods and styles. By going eclectic, you will get to create unique color combinations involving yellows, blues, reds, and greens. Just make sure to use some neutrals to tie all the elements together!
Create a Bookshelf Wall
Are you a bookworm? If so, you should design your entire living room around your favorite hobby by creating a bookshelf wall. For starters, it will serve as a unique focal point. A bookshelf wall is also great due to its functionality, as well as its ability to help you to create a beautiful space that complements your personality.
Use Mirrors
Mirrors are particularly useful in small areas, as they create an illusion of space. If you are a bit short on space, they will be an excellent addition to your living room. Just make sure to place them opposite the window so that they can reflect as much light as possible back into the room.
Aside from that, mirrors can become a beautiful decorative item that will add some flair to a plain wall. With gorgeous, hand-carved frames, you will achieve a luxurious or vintage look. You could also go a step further, and create a mirror collage that combines mirrors in different frames and styles that you have found in antiques shops or at flea markets.
Use Rugs
Rugs are useful for providing padding on hardwood flooring. On top of that, you can use them to add warmth and character to your living room. The great thing about rugs is that they come in all kinds of shapes, sizes, and designs, which means that every homeowner should be able to find one that suits their décor style.
Use a Fireplace as a Centerpiece
Last but not least, if you are a fan of cozy spaces, a fireplace is a must in your living room. It will serve as an excellent focal point and add warmth to the room, figuratively and literally. You could either opt for a classic fireplace that gives the atmosphere of old nobility, or you could go for a modern, sleek design. It is up to you!
To make the most of your fireplace, you should consider displaying some decorative items on the mantelpiece. Frames with family pictures will always look good. You could also opt for candles, a vase with fresh flowers, or books.
In Conclusion
Creating a unique interior design for your living room does not have to be very difficult. The key is to choose a style that you like and to carefully select all of its elements. If you want to achieve a genuinely eye-catching look, opt for bold colors and accessories, but if you prefer a more subtle look, you could always go with a monochromatic color scheme instead.
With so many design options to choose from, you should be able to create a living room that will complement your personality and make your house the perfect place to unwind in no time!