Since your surroundings significantly impact your mood and mental health, it is only natural you want to live in a beautiful house that perfectly satisfies your requirements. As personal tastes are prone to change and buildings wear out, there will always be room for improvement. However, because renovation is a time and money-consuming project, many people postpone it for months, during which they have to deal with dissatisfaction.
Fortunately, you do not have to wait for the moment when the stars finally align to improve your living space. On the contrary, you can quickly do so with some easy projects that will enhance its appeal. Do you have a free weekend? If yes, consider repainting some of your rooms, refreshing your front door, creating an accent wall with wooden slate panels, or installing cornices. You could also make DIY decorations or hang window boxes.
To give your home a makeover, you do not have to make drastic changes that will take days to complete! Here are some ideas for projects that you can complete this weekend if you need inspiration.
Refresh the Paint
If you are interested in changing the mood of your home, there is no better way to begin than with a fresh coat of paint. It does not require much time and effort, but it will significantly impact your space. With the right colour palette, you can make a cold room warm and inviting and create a fun and inviting atmosphere in a room that seems dull and uninteresting.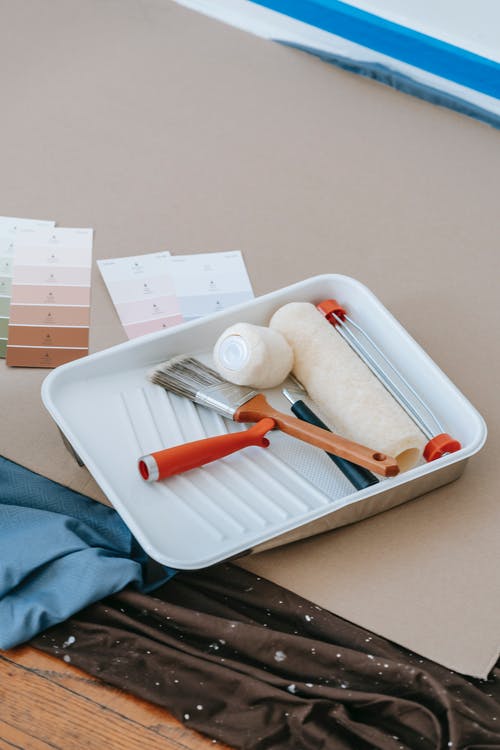 Before you get started, make sure that everything is prepared. Gather all the necessary tools and materials, and find a suitable paint colour that will make your room look brighter and larger. For example, you can visit https://www.tripplo.com/uk/ or other sites offering promo codes to get all the things you need at affordable prices. Also, if you will apply a new finish on the walls, prepare a primer for the best results. After that, you can start painting the walls in a new colour.
Update Your Front Door
The front door is the first thing people notice when they arrive at your house, so it should be appealing for you and your guests. If your front door is time-worn and battered, you should think about replacing it with a more modern one. You can find many options online or even at your local hardware shop.
Alternatively, if you are on a budget, you can refresh your current door by painting it in a new colour. First, you will have to clean it from the old layer of paint. Unfortunately, this process might take a while if you decide to sand it manually with sandpaper. But if you have a polisher or know someone who owns the machine and is willing to lend it, you will finish before you know it. Then you need to paint it and voila - you can enjoy your new beautiful door!
Create a Feature Wall With Wooden Slate Panels
A feature wall is a versatile element that can visually define any area and enhance its appeal. Many homeowners have already seen feature walls in many stylish homes and decided to implement this solution into their own living spaces. And you can do so yourself as well! Feature walls are ideal for any space, be it a living room, bedroom, office, or entryway.
A simple way to create a feature wall is by using wooden slate panels. These are available in different styles, so you can choose one that fits your needs best. You can install them yourself or hire a professional to do it for you. Just make sure that you follow the instructions on the packaging carefully and use the panel in the specified application area.
Hang Window Boxes
Window boxes are practical and easy-to-use accessories that can instantly improve your home's exterior appearance. They are perfect for growing herbs or flowers, making them colourful and attractive. To hang them on your windows, you should purchase brackets that suit your windows' shape and size.
One of the best places for window boxes is next to the front door because they will add colour and character to your entrance area. You can hang them without any additional decoration if you want to create an uncomplicated look or add some vintage details if you wish to make them appear old-fashioned or charming.
Install Cornices
Cornices are the horizontal decorative moulding in the corner between your wall and ceiling. They can give your interior design a streamlined and expensive appearance, making your house seem more valuable. They are available in different sizes and materials, so it is up to you to decide which ones work best for you. If you have always wanted to have cornices in your home, now might be the right time to do so.
Some cornices are attached to the wall using adhesive, so you do not need any additional skills or knowledge to install them. Nonetheless, you should adjust them properly to ensure the best results. In addition, wooden cornices could require some maintenance because they tend to warp with time. So if you choose to use them, check them regularly and keep them in good condition.
Create DIY Decorations
Creating decorations is among the most affordable ways to improve your home. If you do not have money to buy expensive decorative pieces or accessories, you can always make them yourself. For example, you could make some DIY decorations for the entryway, such as a wooden runner or a coat rack. If you are skilled in woodworking or have basic DIY skills, you can try to make some other decorations yourself too.
If you search for inspiration, you will find thousands of great ideas that will help you get started. Decorations also make great gifts for friends and family members who recently moved into their first home. So, you can make stunning ornaments and adornments for them as a housewarming gift.
In Conclusion
If you have always dreamed about creating a more modern-looking home but lacked the resources to make it happen, you should use your free time this weekend for some simple DIY home improvement projects. They will not cost you a lot of money and take many days to complete. Instead, they will visually improve your space and make your home a more comfortable place to live in.
With so many projects that you can complete in so little time, there is no reason to postpone them. If you decide to improve your home this weekend, do not let anything stop you from following through with it! Just think about how great it will be to live in a beautiful and comfortable house that will make you happy every time you enter it.