Selling your apartment and any real estate property, for that matter, can be challenging. Aside from knowing how to price your property, you also have to study the local real estate market to determine what the buyers want and what your competitors are doing. An apartment is a great investment, but not everyone realizes it.
Selling your apartment quickly is not a walk in the park, especially if you do not have the professional training and experience to do it. Fortunately, there are several methods on how you can make this process easier - and adding the following to your apartment is a great start:
1. Add Some Greeneries
There are several reasons why you should add plants in your apartment. Plants add a pop of color to any space and filter the air indoors. Plants can also help neutralize the odor inside your home, so the entire area smells fresh.
If you want to sell a house fast in Arizona or your apartment located elsewhere, add different types of houseplants. Some of the best options you have are aloe vera, snake plant, bromeliads, Chinese money plant, and Chinese evergreen. All of these provide the benefits mentioned and are actually very easy to maintain.
To make it easy for your next homebuyer to keep these plants alive, make sure to place their pots in areas that have access to natural light. This will also make your plants stand out and become the focal point of the rooms in your apartment.
2. Add A Fresh Coat Of Paint
Contrary to popular belief, you don't have to spend a lot of money to make your property attractive to homebuyers. There are actually a ton of ways on how you can improve the aesthetics and ambiance of your apartment, and one of these is by adding a fresh coat of paint.
And while this is your own investment, you should still be careful in picking which color to use for your apartment. Using the wrong color in the wrong room of your apartment can create a negative ambiance and shoo away potential buyers. Make sure that this doesn't happen by finding paint color inspirations, using color theory to create a color scheme, and getting creative with neutral paint colors.
3. Add More Storage Space
How your apartment looks, whether in person or in pictures, can influence a homebuyer's decision to do business with you. Regardless of how spacious your apartment is, if all of the valuables inside it are cluttered, don't expect that you can easily haul in buyers.
An apartment is an expensive investment, and homebuyers would want to make the most out of it by imagining themselves living in it. Do you think these homebuyers would look forward to living inside your apartment if the space is unorganized? How can they ever live comfortably if the area looks like this?
To make it easier for homebuyers to love your apartment, add more storage space. This is actually a very easy task that doesn't require a lot of time. You can install floating shelves in your living area, use crown moldings as shoe racks, and invest in dual-purpose furniture such as an ottoman. Adding more storage to your apartment will make the space look clean and feel airy.
4. Add Technology
Technology is changing the lives of every person in the world. Because of different innovations, people can now accomplish several tasks with ease and communicate with distant friends and family. But are you aware that these innovations can also help you sell your apartment faster?
There are now several technological innovations that you can add to your apartment to make it more attractive and saleable. Depending on your budget, you can install a smart thermostat that can be controlled using a smartphone or security cameras that provide 24/7 surveillance to your apartment.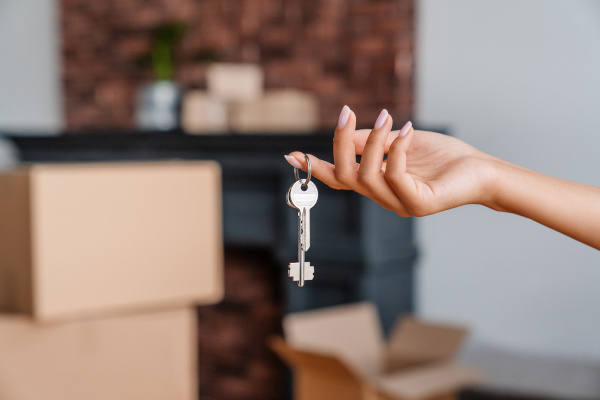 5. Add New Hardware
As mentioned, apartments are expensive investments, so expect that potential homebuyers will be very noisy before they pay. More often than not, they will schedule an appointment with you so they can visit and inspect the features of your apartment. Homebuyers will always go through this process to assess if your apartment looks the same as you would advertise it online.
Make sure that you do not disappoint these potential homebuyers by adding new hardware. Spend some time to replace your cabinet knobs and cabinet handles in different areas of your apartment. These pieces of hardware might be small, but these will surely make or break the look of your entire apartment.
Always Stay Patient
Aside from knowing what to add in your apartment, you should also have patience when selling it. You will meet different people and challenges the moment you decide to sell your apartment, so you should be patient enough to overcome all of these.