Beginning a home renovation project might be intimidating, especially if this is your first time. Whichever project you select, there'll be an abundance of details to consider, which can quickly become overwhelming. Perhaps, the most challenging thing is deciding where to begin. If this is the case, take a moment to gather your thoughts and approach the situation objectively.
Here are some tips for designing a home optimally suited to your needs, whether you're contemplating an extensive renovation or a fundamental restructuring: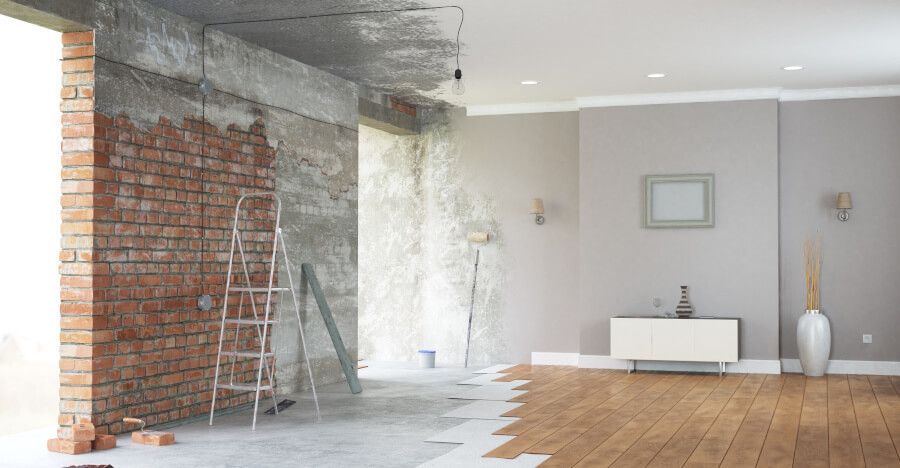 1. Choose Between DIYing And Hiring Contractors
A vast majority of folks are unable to afford to replace their entire home simultaneously. Additionally, they aim to save as much money as possible. If this is you, determine which aspects of the remodel you can handle on your own, and which ones will require the assistance of a professional. Amateurs can do painting, baseboard installation, small-scale demolition, and even flooring installation. However, installing doors or windows, and undertaking extensive demolition work may prove more challenging.
If you're unsure whether this is something you want to pursue, visit sites like YouTube and watch a few videos of people performing the activity you're considering. You may be astonished at the amount of boldness it may inspire.
Remember that some parts of the renovation project will be hard to handle on your own. If you're tackling exteriors, it's better to leave them to experienced professionals, like Nova Exteriors, to ensure that your home remains protected from the outside.
You could pay contractors to make changes to your home if you have the means. It's the most satisfactory solution if you lack time and skills to finish the tasks yourself.
2. Create A Budget Strategy
The next stage in planning a home remodeling project is to determine your budget and financing options. Permits, construction materials, labor, and any aesthetic or cosmetic component should all be budgeted for. Establish a budget, settle on a spending limit, and acquire money. Set aside at least 10% of your budget for unexpected expenses. Consult with professionals to obtain price quotes and to determine the cost of all necessary items.
If your cost estimates exceed your budget, request price quotations from different contractors to determine which choice is the most cost-effective.
3. Make Your Design Concepts Specific
Before meeting with an interior designer, you'll want to narrow down your design selections. Browse home designing magazines, interior design blogs, and design shows for inspiration. Having a sense of design direction will assist you in avoiding being swayed by the designer's tastes, which may be in conflict with your restoration objectives.
Additionally, keep your budget in mind while hiring a designer. Allow them to make large purchases on your behalf and, then, bill you for them. Furthermore, you might cut costs by aiming to stay inside a specified time range.
4. Make The Most Of The Given Area
If you feel the need for additional space, ensure that the rooms you currently have function properly before determining whether or not to expand. Perhaps, you, too, own an empty room. Is it feasible to redesign and repurpose it? If you can, try to make more of the space and maximize its capabilities.
If you decide to expand, ensure that the existing house flows into the new one and that both areas have adequate space and storage.
5. Obtain All Necessary Permits
Permits are required for some types of home renovation projects. Usually, permits are necessary for structural improvements, footprint alterations, new windows, plumbing, and electrical modifications. However, permits aren't required for smaller tasks, such as flooring replacement and painting.
Contacting your local city authorities and advising them of your intentions, as well as any necessary approval, is a brilliant place to start. Additionally, they may urge you to seek county or state approval.
6. Create And Adhere To A Schedule For The Project
The most efficient technique to alleviate tension during the remodeling process is to establish a timeline. Without one, upgrading a home could take years. It's possible that you'll run out of time and will be unable to complete the assignment. Alternatively, you may be required to wait several weeks for a contractor to contact you, delaying the makeover.
Creating a timeline can assist you in completing this procedure more quickly. Any plan you design can be presented to your contractor, and if it's not feasible, you may work with them to come up with another option. They'll make every effort to meet your deadline if this is the case.
Adhering to your schedule doesn't ensure that the first one you make will be your last. If you encounter difficulties, make the necessary modifications.
Takeaway
Setting a goal for yourself, creating a comprehensive vision of what you want, and then renovating each component of your home in the order described above are all critical to renovating or remodeling your home beautifully, while staying within your budget.