What the COVID-19 Pandemic Means for Texas' Real Estate Market
The coronavirus pandemic has raised unemployment rates, brought uncertainty, and threatened the economic security of millions of people across America. Regardless of the health and financial challenges provoked by the novel coronavirus, the housing market has remained strong in many states across the U.S, including Texas.
Texas Shrinking Inventory
Inventory refers to the number of homes being actively marketed in a location. In low-inventory markets, the demand for homes is higher than the number of properties available for sale.
"Months of inventory," more commonly known as "months of supply," measures the number of months that it would take for the current homes on the market to sell. A balanced market, where there is supposed to be an equal number of sellers and buyers, usually has six months of supply.
A low-inventory climate, where buyers outnumber sellers, poses excellent opportunities for homeowners wanting to sell their houses fast and for top dollar.
Last July, Texas' inventory of homes in the $300,000 price range declined to an all-time low of 2.4 months, as stated by the Real Estate Center at Texas A&M University's Texas Housing Insight report.
Record Low-Interest Rates
Historically-low interest rates and are attracting buyers into the market and giving them more buying possibilities. Even with home prices increasing, many first home buyers have taken advantage of these low mortgage rates to enter the market.
Texas's current lack of inventory has been beneficial for many homeowners trying to sell their homes. However, listing a property during a pandemic also poses many risks and challenges.
Downsides of Selling Your Home in The Traditional Way During the Pandemic
Selling a home the traditional way requires a lot of work, time, and sometimes even money. And, In times of COVID-19, listing a house can be a threat to your health and wellbeing.
Social Distancing
Practicing social distancing means purposefully avoiding close contact between yourself and other people who are not from your household to stop the spread of illness. In COVID-19, the recommended distance is 6 feet to reduce infection risk when they cough, sneeze or speak.
Physical distancing also involves staying home, avoiding crowded spaces, canceling gatherings, closing schools, and working remotely. And, practicing social distancing while listing a home can be a real challenge.
Hosting Open Houses
Besides being uncomfortable, having strangers walk through your home at odd times can get you exposed to the virus.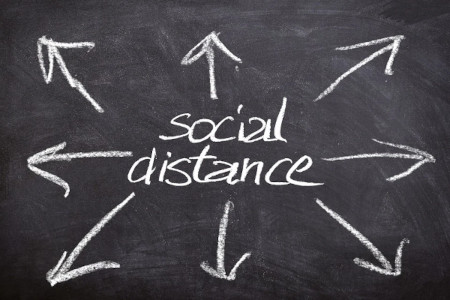 Staging a Home
Staging is a marketing technique that consists of making a home appealing to the highest number of prospective buyers. However, hiring a professional to bring outside furniture and decor your home can risk your family's health.
Doing Costly Repairs
Besides coordinating showings, listing a home requires decluttering, cleaning, repairing, staging, and photographing your home. This means spending thousands of dollars on repairs and renovations plus possibly getting you exposed to the virus.
Waiting for Offers
Even in the steadiest market, listing a home can be a long-lasting process. On average, selling a house the conventional way in the U.S. takes between 55 to 70 days or more.
Selling Your Home During COVID-19
Listing a house while in a pandemic can threaten your and your family's health. Fortunately, there are other, safer, and faster ways to sell your home during COVID-19. If you want to sell your home while avoiding unnecessary contact, selling your property to a cash Homebuyer in San Antonio, Texas, can be a good option.