It's always a good time to invest in the infrastructure of your home and keep it up to date over time. However, with the recent surge in the property market after a long period of dormancy during the months of covid, more people are looking to profit from this spike. The best way to make the most of this opportunity and to earn as much as possible with the current market trends is to get your home in top shape. Especially if your house is an older construction, you could really benefit from bringing it up to speed with what other property owners are offering in the market. Whether you are looking to sell the property or you want to rent it out to new tenants, having basic amenities in better condition will always help you fetch a better price for the asset. Even if you are looking to keep the home in self-use, it is always a good idea to carry out periodic maintenance and attend to things before they become completely useless. Here are a few must-do projects you should consider for your home or commercial property.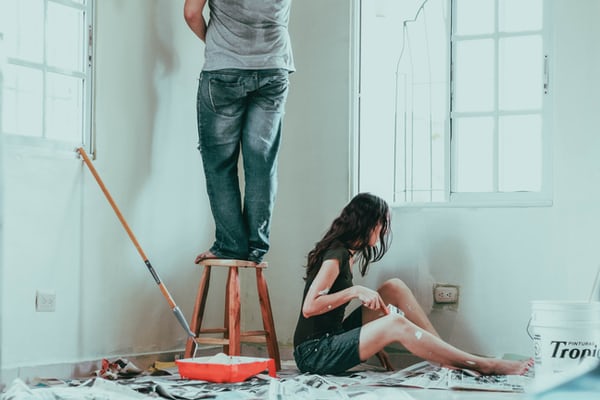 1. Bathrooms
Whether you have a house, an apartment, or a commercial facility, you are bound to have a bathroom. The bathroom occupies a small portion of the house in terms of square footage but in terms of the value of the overall property, it plays an important role. You can substantially improve the livability of the space with a better bathroom and also give the property value a good boost. If you have an older home you probably have a bathtub, and changing that to a shower can make life a lot easier and will be a change that home buyers will definitely appreciate. Similarly, improving the sinks and taps to motion-sensing versions or improving the water heating system all go a long way in improving the functionality and visual appeal of the space.
2. Roofing
Roofing really depends on the kind of climate you have, the design of the home, and the homeowners' requirements. It's something that is tricky to get right but if you live in an area with a relatively comfortable environment like Texas, you have a lot more options. Other regions have limited options, where you have to invest in roofing specifically to fight off the extreme cold. This project can be expensive, but if you are looking for roofing in South Texas, consider investing in slate tile roofing or traditional ceramic tile roofing and thank us later. This is an attractive style of roofing, it works extremely well with a brick house and offers a lot of functional benefits too. Plus, it's extremely sturdy and will easily last you several decades. It's virtually maintenance-free and if a tile does break, it is easier to replace.
3. Flooring
If you have been living in the same house for several years, you have probably grown accustomed to the flooring and don't even notice the minor defects any more. However, for a new homeowner or even for a rental tenant, the first thing that they notice is the flooring. The new flooring can be difficult to install so you want to go with a durable yet attractive solution that will last you a while. Getting products from a reputable manufacturer helps as they usually provide warranties. Furthermore, having a professional installer will reduce wastage and also get the job done faster than doing it by yourself.
4. Kitchen
This is another area of the home that is used most frequently and can represent a major expense if it is in poor condition. Kitchen fittings can be quite pricey and if you are thinking of smart kitchen solutions, the price significantly increases. However, you don't have to do everything at once. Start with the most critical items and gradually work towards the less significant accessories.
5. Insulation
If you want to really change the way the house operates as a structure, definitely consider getting good insulation. This helps reduce energy consumption and also makes the home much more comfortable to live in. Good insulation will be a valuable bonus if you ever need to sell the house and something that any buyer would greatly appreciate.
Home improvement is something that can easily end up costing more than the house itself. Depending on what you want to get done and how you plan on executing that plan, there is no limit to costs. Ideally, you should set yourself a budget and prioritize what needs to be done. Start with the most important things and then gradually work your way towards additional things if your time and budget constraints allow for it.