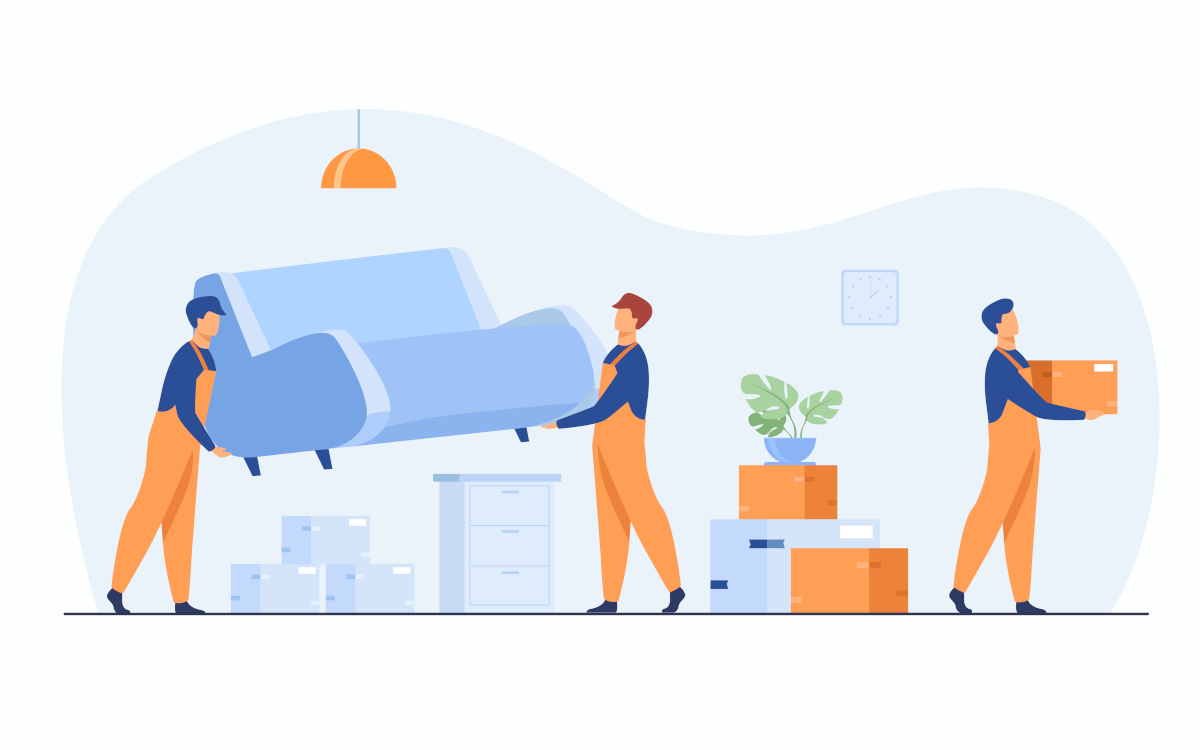 Moving far away to a city or state is never easy, regardless of the miles. It's sometimes inevitable and unpleasant, but it does result in positive outcomes. You'll need plenty of long-distance moving tips and planning, but you're not alone! In fact, not everything goes so smoothly; something always ends up in another pile of boxes or is broken. That's why taking your time to start ahead early benefits you in the long run.
However, the success of moving miles away depends on the mistakes you avoid and the time you take to prep the essentials. If this is your first rodeo, we've compiled a list of six packing tips to reduce the amount of work and ensure you improve your move.
Tips to Help for a Smooth Long-Distance Move
Some moves require little to no effort; you just throw everything in the van and call it a day. Long-distance moves, on the other hand, need more planning. According to statistics, the moving rate has decreased from approximately 34.9 million people to more than 27 million in the last two years, which is equivalent to a drop of around 1.6 million residents moving yearly.
Although there are many reasons for moving, the most common motivators are the economic, political, and weather ones. Many residents have moved across the country for a better future, but that doesn't mean the regions haven't experienced migration. In fact, in 2021, the Northeast lost approximately 227,000 people from migration, while the South gained around 253,000. Regardless of the statistics, the primary factors for people to move from one place to another remain the same.
As a rule of thumb, you should start as early as possible, no matter your moving distance. With the help of moving companies and some tips and tricks, you'll be able to start your move on the right foot.
Consider Logistics
Before any prepping is done, you must consider all the tasks involved in the move and how overwhelmed they might make you feel. Since a long-distance move needs careful planning, it's best to start thinking about the logistics and whether you want to hire a moving company or do it by yourself.
Most long distance movers settle on a moving company, and for the right reasons. If you want to join the club, you need to do your research at least eight weeks before the move to avoid any last-minute issues.
Additionally, if you opt for a moving company, it's essential to think about their rates and costs. For example, professional movers can charge from $300 to $3,500, but it also depends on the type of move.
Plan Ahead
Whether you're opting for a moving company or you're trying to pull a DIY, long-distance moves require thorough planning ahead. Depending on the area you're moving to, it's best to compile a list of things you'll need at least three months before. If you plan, you're more likely to avoid any hassles along the way or forget important items.
Get Rid of Unnecessary Items
Trying to fit everything into boxes and bags can be an overwhelming task, but it's essential to know how to get rid of clutter. So, before you start packing boxes, we recommend you go through unused or unnecessary items. That way, you'll have fewer things to pack and unpack, plus you get to move into your new place with a clean slate.
Think about clothes you haven't worn in a long time, books you won't read again, or kitchen appliances you don't need. Think about it; if you don't use it or need it, it's best to donate it or toss it. On top of that, decluttering can also lower the price of your moving estimate and make the process go smoother.
Make an Inventory List
Tackling a long-distance move means your belongings may scatter across different states. To avoid this, it's essential to make an inventory list of your belongings to ensure everything you own is in one place, so you don't have to worry about their arrival at your new home.
Whether you use a notebook or an app, you simply have to check your inventory list before your move, that way nothing gets lost.
Pack Boxes with Extra Care
A long-distance move can take days or even weeks to complete. As such, your boxes need extra packing effort, especially for fragile items. You can start by wrapping them in old t-shirts, paper, and bubble wrap to keep them organized, and label them as "fragile" so your movers take extra care with them.
At the same time, you can make unpacking a lot easier by organizing belongings by room to avoid them from getting mixed up. Another tip is to label boxes with your name and ensure they get dropped off at the right location.
Let the Professionals Help You
If you don't have the time to handle all these steps or you'd rather spend your time doing something else, you should consider hiring professional packers to help with that. This can save time because these professionals can also organize and clean your home before the move, but keep in mind that it may be expensive, so you should consider your budget first.
Photo Credit: Image by pch.vector on Freepik