It's the dream of every couple and perhaps every family to build a brand new home of their own; built according to their meticulous specifications. Everybody wants to have their dream house. Not every couple though live to see their dream come true and move into a brand new home.

But if you're one of those blessed few, and you were able to build your very own home, then take stock before you schedule that move-in. Before you get too excited, make sure your home is built according to plan. Make sure they built the home the way they said they'd do it. After all, it's not a spec homes.
Move-in Tips
Before you rush into your brand new home, it's best to review some of these move-in tips to make sure you're not forgetting anything. Here are four things to consider before you move-in:
1. Ask for the Plans and Blue Prints
If you weren't able to do this before the construction of your house commenced, or at least before they were finished; then make sure you ask your architect or builder for paper or blueprint copies of the plans of your brand new home.
Give yourself enough time to go over the plans and blueprints. Make sure that what the builder or architect is giving you are the correct plans. You should go over each plan to confirm that they do match the architecture and structure of the home as it was actually built. Ask the architect or builder to point out or explain to you anything on the plans, which you don't understand.
2. Sort Out Your Punch List
Before you conduct the final walkthrough or inspection, sort out your punch list. To make an effective inspection, group the things that you need to inspect according to their interrelatedness. You can also prepare an itemized listing of what you need to check, inspect, and take note of when you do the final inspection.
For instance, you can group the things you're going to inspect according to structural integrity (cracks on columns, posts, and walls), flooring and floor tiles, walls and paint, doors and windows, ceiling and lightings, electrical switches and sockets, cabinets and shelves, faucets and sinks, internet and cable structures and outlets, wooden frames and finishes, among others.
You need to make sure everything is built according to specs and working, but without doing unnecessary things since it's a brand-new home, after all. It might take you forever if you go over the entire house inch by inch.
3. Final Inspection
After you've obtained the plans, architectural drawings, and detailed engineering plans, schedule a final inspection to be done with the builder or architect. As much as possible, the principal architect or builder should be present when you do the final inspection. Check everything and see if there are still major items left unfinished in the scope of works will save you a lot of time and effort.
There might be a difference between what's in the architectural plans and how the new home was actually built. It may have looked good on drawings and on paper but putting all these elements, things, and materials together isn't as easy as drawing them.
Since you were most likely the one who chose most of the materials such as kitchen and bath fixtures, flooring and tiles, doors and windows, faucets and plumbing, electrical, and Heating Ventilation and Air Conditioning (HVAC) system, then you're in the best position to say whether or not they were able to build the house as planned.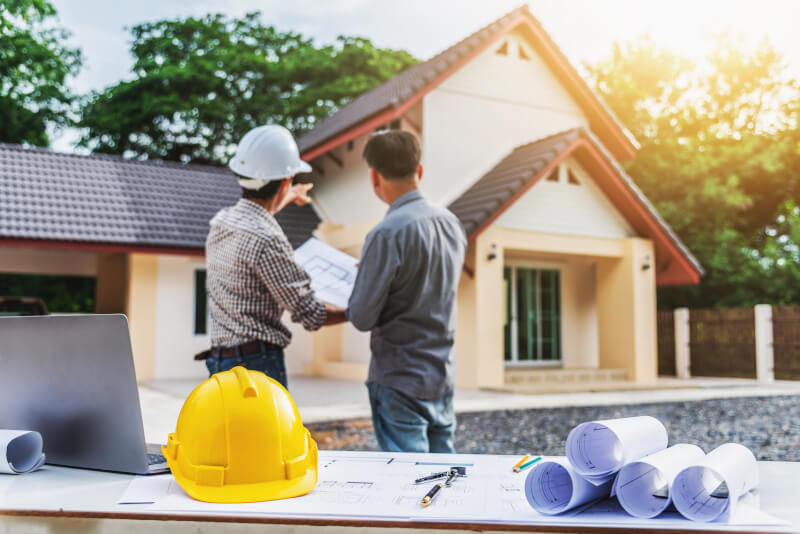 4. List Down The Follow Through Tasks
If there are any repair or completion works to be done, make sure that you list all of them in an itemized manner. If possible, write down a description of what needs to be done and the expected outcome so you can check if the repair or completion works are being done according to your requirements.
Move-in Ready
When all the repair and completion works are finished to your satisfaction, you can plan for your move-in date. Again have a checklist of the things you need to prepare to make the house move-in ready.
For instance, you need to make sure that the lightings have bulbs and that they do work. You also need to check if the electrical circuits are working, outlets have power, and switches can turn lights on and off. As for water and plumbing, you'll have to check whether the water flows from the faucets and that none are leaking. Also, you need to check if the toilet flushes and bidets are working.
If you had asked for the telephone, cable, and internet companies to install connection, you also need to check whether these are working. Finally, make sure your keys are duplicated and kept in places where you can access them if you lose or misplace a key.