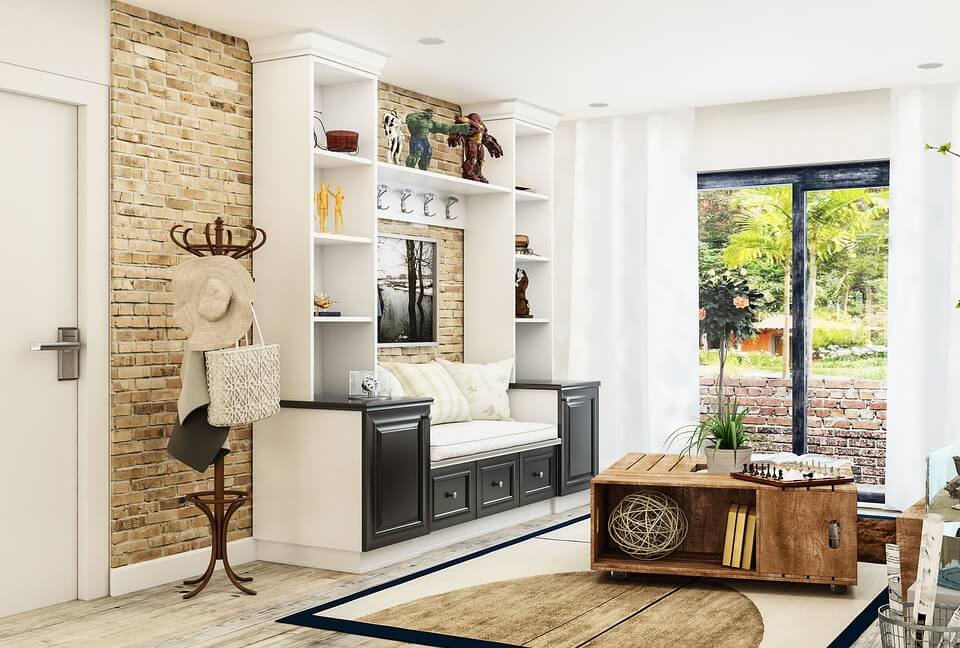 In today's housing market, more people are turning to rental properties than ever before. As the re-opening post-vaccine phase of the COVID-19 pandemic sees workers and college students return to the urban areas they left at the beginning of the crisis, they've faced a shortage of homes for sale. That's resulted in a hot rental market that landlords should take advantage of. And if your apartments are short-term rather than long-term rentals, you need to stage your available properties, so they stand out on vacation rental sites.
You might think that home staging is for selling houses, not renting out apartments. However, that's no longer the case. Today's renters are viewing your units while they're also going to open houses. They have the same requirements and expectations whether they're looking at apartment units or homes they want to buy. Furthermore, according to HomeAdvisor, staged rental properties spend as much as 50% less time on the market as those that aren't staged. And staged rentals garner 20% more in rent as well. While these statistics are specifically about condominiums and houses, they're relevant to your apartment vacancies as well.
To stay top of mind and justify higher rents, staging your vacant apartments to attract renters is essential.
The five apartment staging tips below will help your vacancies stand out to renters.
1. Keep it clean.
Just because the rental market is hot right now, doesn't mean you can get lax about keeping your rentals immaculate. With the advent of COVID-19, people have become extremely mindful of sanitation and hygiene. Even an unwashed dish in a kitchen sink could put them off.
As a result, don't show apartments to prospective renters until the current tenant has moved out. Furthermore, have the unit professionally cleaned and make any necessary repairs before you advertise your vacancy. You don't want things such as, stained carpeting, chipped paint on the walls or dirty laundry everywhere to turn people away from your property and onto somebody else's.
2. Use neutral colors
Unless you're renting to a very niche clientele who prefer particular styles and colors, decorate your available apartments in neutral tones. You want vacancies to appeal to a wide range of people. That means staging the unit so potential tenants can picture themselves and their family at home in your rental property. They need to be able to imagine what their furniture and décor will look like. If what's already there isn't to their taste, they will cross your property off their list.
Use whites, off-whites, grays and beige tones for everything from walls to cabinets and sofas to carpets. It's ok to add some brighter colors, but just keep it to accessories, such as throw pillows, candles and framed artwork. More on that later.
3. Ensure a purpose for every room
Don't just stage one bedroom, the living room and the kitchen, then leave the rest of the rooms empty. Instead, ensure every room has a clear purpose. Sure, whoever winds up renting from you might use the rooms in ways you never might have imagined. However, that doesn't mean you should present your vacant apartments as boring shoeboxes. If that's all your prospective tenants see, they won't be able to envision themselves living in the property, no matter how badly or quickly they need to find someplace.
Alternatively, don't create randomly furnished spaces or rooms with an atypical function. Even if you used to live in the apartment and kept doves for your magic act in the spare room, don't stage it to appear as if it once belonged to Penn and Teller or Harry Houdini.
Instead make your available apartments homey. For example, if you're renting out a 2-bedroom unit, design the space to have clear dining, living and food preparation spaces. Then decide if you want to present both bedrooms as a master and guestroom, a parent's room and child's room, or as a master bedroom with the other bedroom decorated as a home office.
4. Accessorize wisely
While you want the walls and furniture to be as neutral as possible, it's ok to add character to your available rental properties. Include unique items as accessories. For example, if your hobby is philately, consider framing some of your rare stamp collection and hanging them on the walls. Whether it's a unique collection or fine art, acrylic sign holders or slide-in poster frames are versatile and economical ways to create wall art perfect for staging.
If your apartment complex is more family oriented, use items that make people feel they could spend time hanging out on the couch, or helping their kids with homework at the dining room table. If the unit is more urban, match the neighborhood or building with more industrial items. The cushions, knickknacks and wall items in your rental property can be conversation starters, but shouldn't be too over the top either. If you match the décor to the type of renters looking for homes in your area and keep everything else neutral, you'll have a new tenant in no time.
5. Banish clutter
Finally, get rid of clutter. Even if the apartment you're renting is spotless, if it's unorganized or full of too much stuff, it will appear dirty and small to prospective renters. Put yourself in their shoes and see your vacancies through their eyes. You wouldn't consider renting a home that's small, messy, dark and dingy.
We talked about art and other home accessories above, and while they're great for staging, don't overdo it. Think minimalism and remember the saying, "a place for everything, and everything in it's place," when organizing the furniture and elements you're using to decorate your vacancies. Don't pack too much furniture into individual rooms or use pieces that are too large for the rooms.
Whether the apartment will be furnished or not, include things to help organize everything in that space. For example, office organizer boxes in the den and jewelry or makeup displays in the bedroom, walk-in closet or master bathroom.
Making the extra effort will be worth it
No matter how you chose to stage your apartment to attract renters, the time it takes will only pay off in the end. Remember, we mentioned that staged apartments translate to better rental income for you in the form of higher rents. Plus, with the shortage of housing right now, by preparing your vacant units for market, you could even generate a bidding war, or find a tenant willing to pay cash for multiple months of rent in advance.
Author Bio
Ray Ko has been creating effective visual merchandising and interior design strategies for retailers for more than 20 years. Today, he is the senior ecommerce manager for shopPOPdisplays, a leading designer and manufacturer of stock and custom acrylic product.