If you want to know how to start a real estate business, it's important that you know exactly what it is you want to do with your business. This means making a list of what you hope to accomplish and spending time thinking about where you want your business to be in five years. Without having a clear direction, it's much harder to get desirable results.
According to Paperless Pipeline, in order to successfully get started, you need to break down the steps of starting your business into smaller pieces. Doing this will ensure that you're ready to hit the ground running.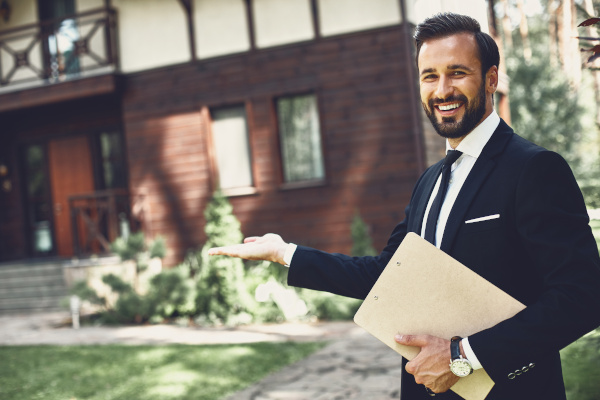 1. Do Your Research

Look at your options and find a mentor that can show you the proper way to go about each one. Find a guidebook or course that will show you how to get started and go over it with a fine-tooth comb.

From there, you need to figure out your entry point. You want to have a solid financial base to start with so that you don't lose money while you're building your business. Make sure that you have a plan for your financial growth. There will come a point where you can't grow or expand without raising more capital.

2. Build a Business Plan

You need a plan that outlines what you want to accomplish and why you want to do it. You need a plan to show investors why they should fund your project. It's very important that you are clear with your purpose and that you've covered all of your bases.

3. Create a Brand

Branding yourself is the most important step in getting your name out there. You want people to be aware of your existence. You want potential buyers to see you and then decide whether or not they want to do business with you. It's not enough to have the best location, you also need to have an image that reflects the kind of property you're selling.

4. Develop an Executive Team for Your Real Estate Company

This team will be in charge of hiring and training the rest of your staff. Having a core team is very important for the success of your business because it helps set a standard and ensure that your employees are serious about their jobs. If you don't have a team, you might run into problems that might lead to bankruptcy. Don't take the risk. Choose one or two members for your team so that the others are comfortable working with them.

5. Begin Hiring Your Agents and Staff

Get yourself started by hiring employees. You'll want to hire someone with real estate experience and someone who will be willing to do a lot of the grunt work involved with running your business. Someone like a mortgage officer, property manager or someone else in management will be able to help you get everything going and provide your business with a much-needed boost.

6. Develop A Marketing Strategy

There is no question that you want to advertise your business. But there is also no question that you need to be creative. When you look around at other real estate businesses, you're going to see that they have a great advertising budget that you may or may not have as well. So, get creative. You can hire someone to write press releases, get on the radio and television, put up fliers, or take out a full-page ad in the newspaper and let them know about you. It doesn't matter how you get your name out, just make sure you have developed a marketing strategy.

7. Double-Check to Make Sure You Are Legally in Business

This means that you have had your real estate license and have been through the licensing process to make sure that you are a responsible real estate seller. A license allows you to legally operate as a seller of real estate so make sure that you get your license as soon as possible. You also want to check with your state's Department of Financial Services to make sure that you are ready to buy property and that you have all of your financial records together. Once you have your real estate license, then you should sign a contract that details your responsibilities for the sale of your property. Most contracts include a section that describes what happens if you aren't able to meet the contract terms. Make sure that you understand the fine print in the contract before signing and make sure that you review it carefully once you have signed it before you sell a house.
Your real estate company must have a well-organized management system in place by the time you get started. For example, you should set up an accounting system to record payments from tenants, and landlords. Keep track of bills, receipts, and credit card statements. Keep track of accounts receivable, and inventory amounts. And, of course, record the sales of your merchandise. Keeping these records will ensure you are able to make accurate financial projections for the next few months.
At this point, you should be able to understand how you can start a real estate company. You will have many opportunities available to maximize your profits with your real estate business. Don't forget to follow all the steps to make sure you are operating legally. You should also obtain insurance and have your license from the county or state to provide liability coverage. Once you have all these things in place, you should open your doors for business and enjoy the rewards that real estate ownership can bring you.