Is your backyard just an extension of your living room? Or is it a summer getaway where you can relax and enjoy the weather? If you're not sure how to make the most of your backyard, don't worry. We're here to help! In this blog post, we will discuss some tips on how to turn your backyard into a summer paradise. So pack up a picnic lunch and get ready to enjoy the great outdoors! Read on!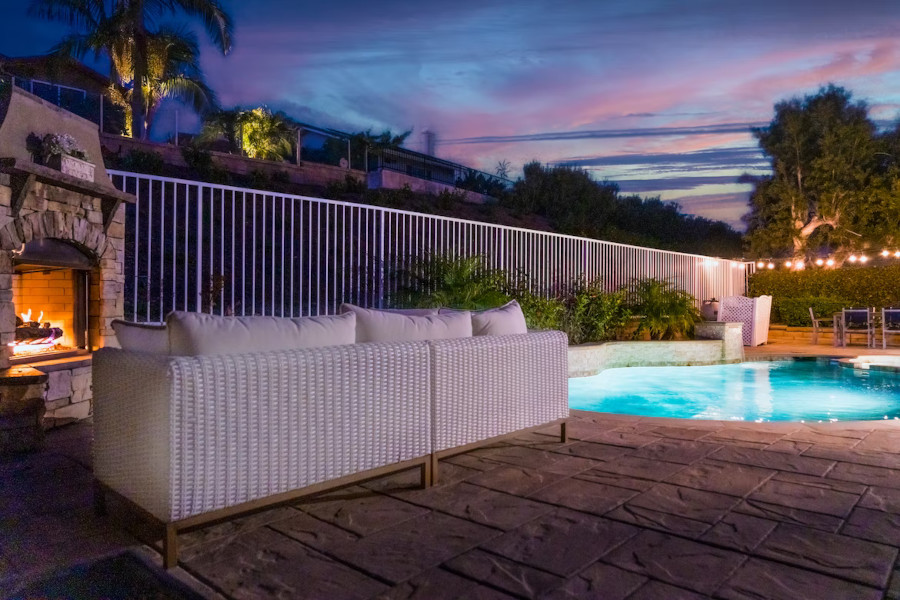 Idea #1. Build spots for outdoor lounges!
In addition to locations for outside dining and gathering, a spot to relax is essential. When stretched between tree branches or deck pillars, a hammock makes a cozy area for an evening snooze. A couch lounge is perfect for tanning or reading a book. To increase comfort, use a lot of pillows or seats. These calming backyard designs will transform your yard into a heaven on earth.
Idea #2: Install an outdoor kitchen!
With an outdoor kitchen, you can enjoy all the comforts of indoor cooking while enjoying the outdoors. Consider installing a gas or charcoal grill, a sink, counter space, and storage cabinets. With these backyard ideas, you'll be able to cook meals and entertain guests without ever having to go inside.
Idea #3: Add some warmth and vibrancy with a fire pit!
Nothing says summer like sitting around a cozy fire. A fire pit can provide warmth on cool evenings and create a focal point for social gatherings. If you don't want the hassle of building a fire pit, consider investing in a portable one that can be moved around as needed.
Idea #4. Add a touch of green richness with plants!
Plants can transform your backyard into a serene oasis. Install a few privacy trees or bushes to create a natural barrier from the outside world. Add some colorful flowers to add a pop of color. And don't forget the greenery! Plants are a great way to add texture and interest to your backyard space and make it feel like a summer getaway!
Idea #5. Let the outdoor lighting direct the atmosphere!
After-sunset outdoor paradise themes must feature excellent outdoor lighting. Patio lights, in their most basic stance, highlight the entrance to the property and offer lighting effects. For external kitchens, strong task lighting above the grilling and work areas is required.
In the table and conversational spaces, candles, wall-mounted recessed lights, or adjustable electric lighting work nicely. Stairs and walkways should be illuminated for the utmost safety.
Photovoltaic accent lighting or low-voltage moody fixtures can also be used to integrate some drama and excitement into the environment and emphasize walkways. Combine a variety of artificial lights to transform your backyard retreat into a spectacular area during nightfall.
If you want to ensure the right quality of lighting techniques and fixtures that are employed in your backyard space, then go right down to Blingle! They specialize in backyard lighting ideas, installation, and maintenance to make your space feel like a summer getaway!
Idea #6. Don't forget 'em shady spots, either!
While we all love basking in the summer sun, sometimes it's just too hot! Creating shady spots in your backyard is a great way to provide relief from the heat. Install an umbrella or pergola over your patio furniture, or build a simple shelter with some poles and a tarp. These shady backyard ideas will help you stay cool all summer long!
Idea #7. Keep things cool with a pool or water feature!
A summer getaway wouldn't be complete without a pool or water feature! If you have the space, consider installing a pool or hot tub. If not, a small fountain or birdbath can add a touch of relaxation to your backyard. These backyard ideas will help you beat the summer heat!
Idea #8. Go wild with furniture!
In creating your very own summer getaway, you'll want to have plenty of seating for your guests. But that doesn't mean you have to stick with boring, traditional patio furniture! Get creative with your backyard seating by using colorful cushions, hanging chairs, or even repurposing some old tires. These fun and unique furniture ideas will make your backyard the talk of the town!
Idea #9. Let the backyard games begin!
No summer getaway is complete without some fun and games! Bring out your inner child with a game of badminton or croquet. Or, if you're feeling competitive, set up a horseshoe pit or cornhole game. This backyard idea will keep your guests entertained for hours!
Idea 1#0. Bring your own "bar" with you!
If you're planning on entertaining guests in your backyard this summer, why not set up your own outdoor bar? This can be as simple as a folding table with some ice and drinks or a more elaborate setup with a keg fridge and bar stools. Either way, your guests will appreciate having a dedicated spot to get their summertime libations!
Idea #11. Give some color to your outdoor space!
While your backyard should be a relaxing oasis, that doesn't mean it can't be colorful! Add some bright pillows to your patio furniture or hang some beautiful flowers around your pergola. These simple additions will give your backyard a summery feel that will make you want to spend all day outside!
Key Takeaway
There are endless possibilities when it comes to creating your very own summer getaway right in your backyard. With a little planning and some creativity, you can transform your space into the perfect oasis and a summer getaway for entertaining guests or simply relaxing in the sun. So what are you waiting for? Get started on these backyard ideas today!