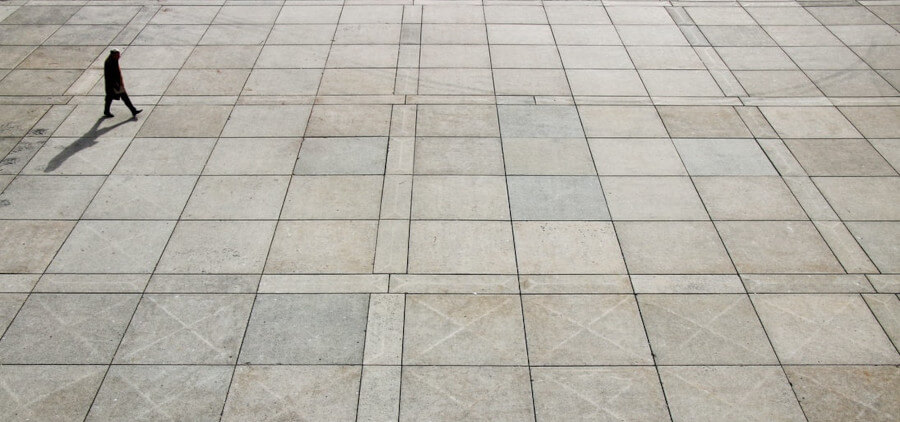 Are you looking to make a statement with your outdoor space, no matter the size? The French pattern, or Roman pattern, of tiling can be used with outdoor tiles or pavers, and has a subtle eye-catching look you're sure to love.
A unique look
This unique tiling look is also an old one, which is why it's sometimes called 'Versailles pattern' or 'Roman pattern'. It's a modular interlocking pattern, meaning you create a geometric pattern with different tile sizes that repeats through the design in chunks, or modules. Think of the look of the floors in historic European palaces, and you'll know what we're talking about. Like these historic bathroom tile patterns, it's a fun way to incorporate history into your home.
Due to this modular nature, it's ideal for larger outdoor spaces. Yet, because the intersection of lines and tiles creates the illusion of an even larger space, it can also be adapted smartly to smaller spaces. It's perfect for someone who wants to design an attractive outdoor space that enhances their garden, as it makes it very easy for the eye to not get caught up on straight parallel lines and instead drink in the entirety of the view. It's a bold, one-of-a-kind look you're sure to love, and will make your home feel like a sanctuary.
How to lay French pattern tiles
Unless you have some experience in the area, you may want to leave this to the experts. In a French pattern tile set you will have four 8x8 tiles, two 8x16 tiles, four 16x16 tiles, and two 16x24 tiles (or an adapted set on similar lines). This default tile pack will cover 16-square feet.
Start by measuring your area. If it's an odd shape, divide it into squares and work from there. You will need to buy tiles that are designed in a French modular set. If your surface needs some basic work and a leveling floor added, you'll need to do it in advance of the tile installation. From there, the last thing you will need to do is decide how you want to layout your French pattern within the space. It's a good idea to grab a diagram from the internet, to make sure you don't get lost. You can also chalk the space for extra guidance. We found these fantastic French tiling tips to help you out.
Other than the need to work in a pattern, instead of with tiles that are all the same shape, there's nothing different in laying French pattern tiles than there is to a standard tiling job. If you're using this for an outdoor space, remember to consider aspects like drainage and water run-off when you're designing your new paving. If you're in an area prone to flooding, smart landscaping can help save the day, too.
What tiles work well for French paving?
Traditionally, travertine was used for French paving, so any marble or marble-look tile will work well. If that's not for you, however, it can easily be adapted to suit any surface type, including concrete pavers and ceramic tiles. It also works well with subtle two-tone patterns, where you can use darker tiles on the smaller sets and paler for the larger. This can add extra interest to the final design, too.
If you're looking for a way to create an interesting, yet practical, tile pattern, the French paving pattern might be perfect for you. Why not give it a try?