If you have been wanting to renovate your bathroom for what seems like ages, but you are worried about cost, consider it an investment. A report by Remodeling Magazine shows that you can receive about 70% of the cost of refurbishment in the resale value of your apartment in Boston, which is always an important consideration when deciding which parts of your home to upgrade. Bathroom projects can be large or small depending on your budget, but even if you only have a few hundred to spend, a modernistic wall hanging vanity, or an elegant vessel sink vanity can add a touch of artistry that will patent your passion for artistry and design.
What will a Major Refurb Cost?
The cost of renovating a bathroom ranges from around $19,000 for a mid-range remodel, to over $60,000 for an upmarket remodel. Many families raise finance for renovation projects through loans and other arrangements, and if this is the case for you, it is important to make the best investment you can. Refurbs made when budget isn't limited include replacement of existing tiles, removal of baths and placement of walk-in showers, the addition of a standing bath (in larger bathrooms), window changes (e.g. expansions to allow for more natural light), flooring, etc. If your budget is limited, however, and replacing items isn't an option, there is another cost-effective alternative, which is almost as good as getting new elements - reglazing. Reglazing your bathroom is a cost-effective way to breathe new life into the space, and give your bathroom that new, sparkling look it once had.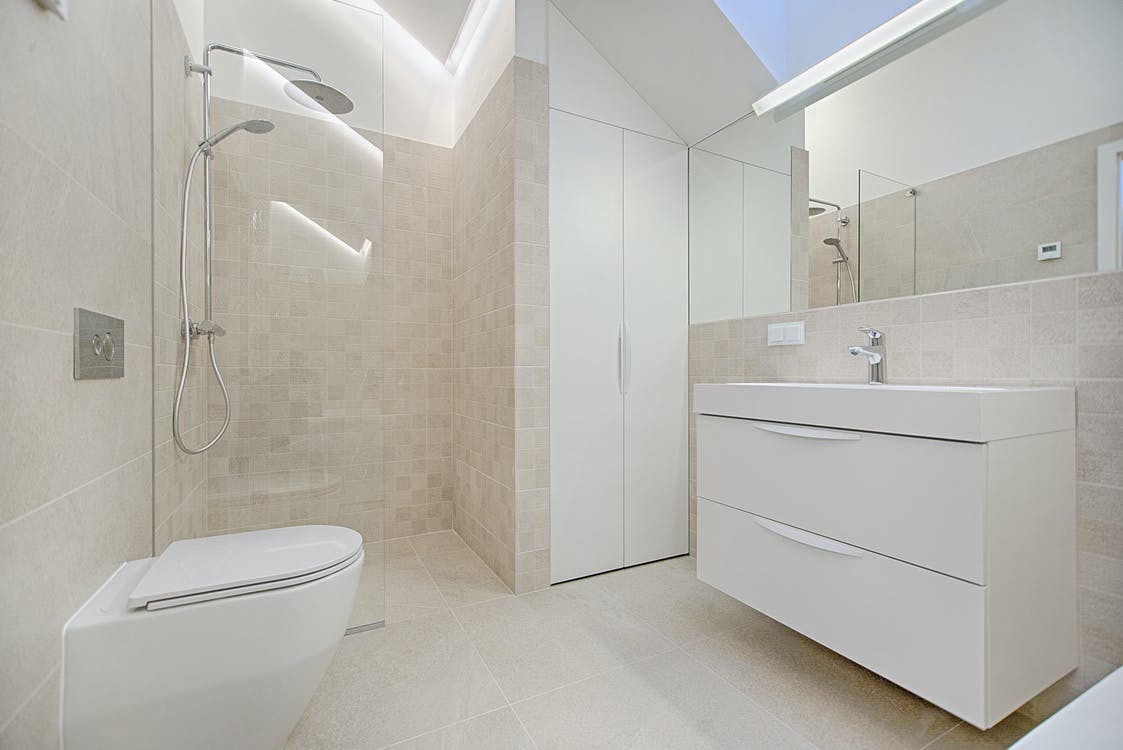 What are Efficient Single Furniture Items that can Make a Big Impact?
As mentioned above, the type of vanity you choose can greatly influence the ambiance created in your bathroom. If your home is minimalistic, continue this influence in your bathroom by opting for a glass single vessel sink vanity or a dark wood, stone-top vanity. Feel free to play with color, using unexpected hues such as dove gray or a pristine white for your vanity and cabinets. Vanilla oak is a gorgeous hue that lends a space a joyful, light-filled, Scandinavian look. A vanity is the main furniture item that can make or break the look of your bathroom so consider it a small investment with big results.
Lighting Matters
In addition to changing one or two key pieces, your choice of lighting can also make a big difference. Who said lighting in bathrooms had to be purely functional? Pendant lights, hung at different heights, work beautifully on one side of a large mirror and there are many models specifically made for a humid environment (and easy cleaning). If you have a large bathroom with features such as a designer standing tub, a delicate chandelier (why not use candles instead of lightbulbs) will add a real romantic touch. LED lighting can also be used to emphasize designer pieces in your bathroom - including a modernistic tub or vanity table.
We have mentioned just a few ideas (from large to small) that can bring your bathroom into the new millennium without costing more than your budget allows for. Start with essentials, such as a designer vanity table and make small changes to lighting and décor, remembering that the bathroom, too, can be a space filled with artistry. Finally if a high-end refurb is in your plans, coordinate flooring, tiling, and furniture, using high-end materials such as colorfully veined marble and designer chandeliers to make the bathroom one of the most appealing spaces in your home.