A Boston move is an exciting time, but it can be challenging to make sure everything goes smoothly without knowing how to prepare for the transition properly. So for those making a local or long-distance Boston move, we've created the ultimate guide to help you get ready for the big day.
1. Find reputable movers
The first and most critical step in any Boston move is to find the best Boston moving companies. Boston moving services ensure that your belongings reach their destination safely and on time.
When searching for Boston movers, be sure to do your research. Ask around and read reviews online to find the most reliable company for your move. You should also get quotes from a few movers before deciding, as prices vary significantly between companies.
According to Harrison Gough, lead New England moving specialist at MovingAPT.com, "People moving to Boston should also check the license and insurance of the Boston moving companies they're considering. This will give you peace of mind knowing that your belongings are properly insured in case anything goes wrong during transit."
2. Declutter as much as possible
Minimizing the amount of stuff you have to move is an easy way to reduce stress and save money on your Boston move. Decluttering is a vital part of any relocation process, and it's best to start as soon as possible.
Take time to carefully sort through your belongings and consider donating, selling, or tossing anything that you no longer need. Not only will this help to make packing easier, but it will also save you money on moving costs.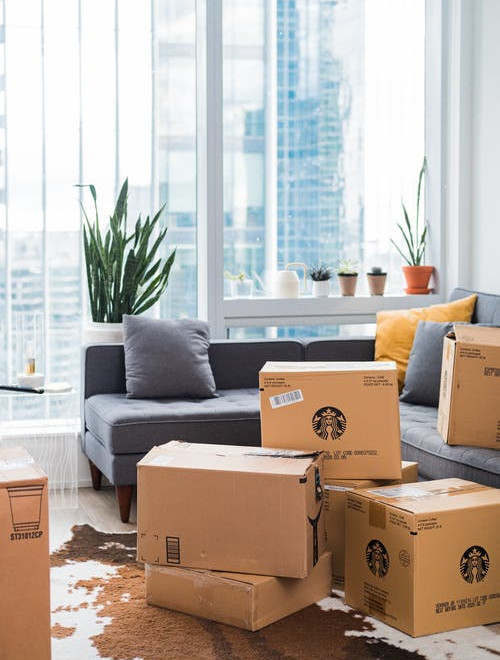 Consider asking your chosen moving company if they offer junk removal services for items that can't be sold or donated. These services can come in handy for removing large items like furniture, mattresses, and appliances you don't need or want.
3. Create an inventory list
Creating an inventory list is a great way to stay organized during your Boston move. This list should include all the items you're taking with you, where they are coming from, and where they are going to.
Consider taking pictures of expensive items and backing up your inventory list in the cloud or on a USB drive. This will help you keep track of your belongings throughout the move and ensure that nothing is lost or damaged during transit.
4. Navigate access fees
Boston is a great city, but the narrow streets, multiple flights of stairs, and lack of elevators can make it difficult to move. To avoid any unexpected fees, be sure to discuss access issues with your moving company ahead of time.
Explain the specifics of your move and ask for an estimate on additional costs that may apply in order to complete your move. This will help you budget accordingly and avoid surprises when it comes time to pay the final bill.
Most commonly, moving companies in Boston will charge additional fees if your move requires:
Long carries
Multiple flights of stairs
Navigating narrow streets or alleys
Tight spaces
When is the Best Time to Move in Boston?
Often, people try to move in the summer months when completing a Boston relocation. This is primarily because the summer weather is more forgiving than the cold winter months. However, summer is typically a peak moving season and is more expensive, especially on or around the end of August to early September when the annual influx of students occurs.
So, those wanting to move when the weather hasn't turned too cold but also when the prices are reasonable often go for moves in the spring or fall. Spring and fall in Boston still offer mild temperatures, making it easier to move without worrying about extreme weather conditions.
Where Are the Best Places to Live in Boston?
Boston is home to incredible and historic neighborhoods, each with their own charm and benefits. Some of the most popular areas in Boston include:
Back Bay: A picturesque neighborhood known for its 19th-century brownstones and gas lamps, Back Bay is one of the most desirable areas to live in in Boston. It's home to some of the city's finest restaurants, bars, galleries, and shops.

South End: One of the largest Victorian-era neighborhoods in the United States, South End is full of diverse restaurants, music venues, and galleries. It's an excellent location for those looking to be close to downtown Boston but live in a quieter residential atmosphere.

Beacon Hill: An affluent neighborhood in downtown Boston, Beacon Hill is home to many of the city's oldest brick buildings. It's an excellent place for those who want access to the downtown area but are also looking for a quieter neighborhood with its own charm.

Cambridgeport: This vibrant neighborhood in Cambridge offers plenty of unique restaurants and shops, as well as easy access to Harvard University. Its central location makes it a great spot for those wanting to explore all Boston offers.
It is easy to find places to live in these or any of Boston's other fantastic neighborhoods by using online apartment-hunting websites as well as local real estate agents.
Best Things To Do in Boston
After getting settled into the city with the help of professional Boston movers, check out these top picks for the best things to do in Boston:
Visit Fenway Park
Take a stroll along the Freedom Trail
Explore the Isabella Stewart Gardner Museum
Enjoy the nightlife of Quincy Market
Walk around the Public Garden
Visit Harvard University
Peruse the exhibits at the Museum of Fine Arts
Take in a show at The Wilbur Theatre
Eat your way through Faneuil Hall Marketplace
Catch a game at TD Garden
Regardless of what brings you to Boston, there is sure to be something that will capture your attention. The city has a little something for everyone, from its deep history and culture to its vibrant nightlife.
Boston: A Better Life
You couldn't find a better place when it comes to moving to and living in Boston with the help of professional Boston moving companies. From its rich cultural offerings to its historic neighborhoods and vibrant culinary scene to the exciting nightlife, there is an abundance of activities and things to do.