Get matched to a locksmith company near you to install new locks, Replace/Change existing locks, Open locked door/lock, Open locked car door, Re-key existing locks or to Repair existing locks.
If you have keys that you no longer need you should consider recycling your keys to feed others! Keys for Hope collects and recycle unwanted keys and key fobs to help stock food pantries in our communities!
What does a locksmith do?
Locksmith companies provide a valuable service to both residential and commercial customers. These companies specialize in the installation, repair, and maintenance of a wide range of locks and security systems.
One of the primary services offered by locksmith companies is the installation of new locks. This can include installing locks on doors, windows, gates, and other entry points. Locksmiths can also provide advice on the best type of lock for a particular situation, taking into account factors such as security needs, budget, and the type of door or window.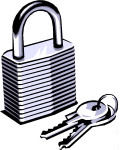 In addition to installation, locksmith companies also offer repair services. If a lock is damaged or not functioning properly, a locksmith can diagnose the problem and provide a solution. This can include repairing or replacing the lock, as well as making any necessary adjustments to ensure it is working properly.
Locksmiths can also provide maintenance services to ensure that locks are functioning properly and are in good condition. This can include regular inspections and cleaning, as well as making any necessary repairs or adjustments.
In addition to these services, many locksmith companies also offer emergency services for customers who are locked out of their homes or businesses. These services are often available 24 hours a day, seven days a week, and can provide fast and efficient assistance in emergency situations.
Overall, locksmith companies provide a vital service to both residential and commercial customers. Whether you need a new lock installed, an existing lock repaired, or emergency assistance, a locksmith company can provide the expertise and services you need.