Nordic style is a popular design trend at the moment. It has been seen in many homes, hotels, and restaurants around the world. The Nordic style was originally started by Finland's National Romanticism movement in 1869 to bring back traditional craftsmanship from when they were an agrarian society. However, this design aesthetic has grown to be more than just rustic looking with birch bark walls and wooden furniture. Many different types of Nordic styles have emerged over time, such as Scandinavian Modern, Minimalist Scandinavian Design (MSD), Urban Rusticity (Rustikal), and Tribal Nordic. If you're decorating your home with this style but are not sure what to do, we'll show you below how to incorporate a little bit of Scandinavia into your own home's décor!
Choose Neutrals for Airy Feel
Nordic or Scandinavian home décor is usually all white, with natural wood and light colors. White walls make a room feel airy, clean, and spacious. If you want to add some touches of color in your decorating scheme, like yellow or blue furniture sets for children's rooms, then go ahead! The neutral colors will be your base and provide the feel you want to evoke in your home. The Nordic interior is meant to be a relaxing and soothing environment. You can also incorporate some plants in your home decorating scheme. The minimalist Scandinavian style is perfect for vases of flowers, small knick-knacks, or decorative accents that give the space a personal touch. Cozy area rugs in the living room and bedrooms are also a nice touch.
Use White Furniture for Clean Look
White furniture is a staple of Scandinavian design, as it provides an airy feeling to any room. Nordic style usually incorporates white walls with light wood floors or natural stone tile flooring throughout each home. Decorating your home with Nordic style is a great way to create an inviting and soothing environment that will make you feel comfortable, happy, and at ease every time you walk in the door. Simple and white seems to work for anyone, no matter what style or color they prefer.
Choose Organic Materials
Wood, stone, and other natural materials are often used to create a Nordic-style home. This is because these materials have historically been considered the only "true" building material for homes, and many people still believe this to be true today. You can choose any natural material that you like when it comes time to decorate your own space with the Scandinavian design trends. Natural materials like wood and stone are quite popular because they are durable and can last for a long time with proper care. Use wooden elements like furniture or flooring to create a warmer, more inviting space. Or use stone materials like tile or marble for an elegant feel that doesn't require much maintenance.
Indoor Plants
The one thing that most people who visit Scandinavia notice is how beautifully manicured all the indoor plants are. Plants help to bring life into any space and give it an airy feel, even if you don't have windows in your home. Use lots of different textures for a Scandinavian design look by adding natural materials like leaves or twigs. Make a place for plants on your window sill or in a large plant pot. To make your home more appealing, place plants everywhere.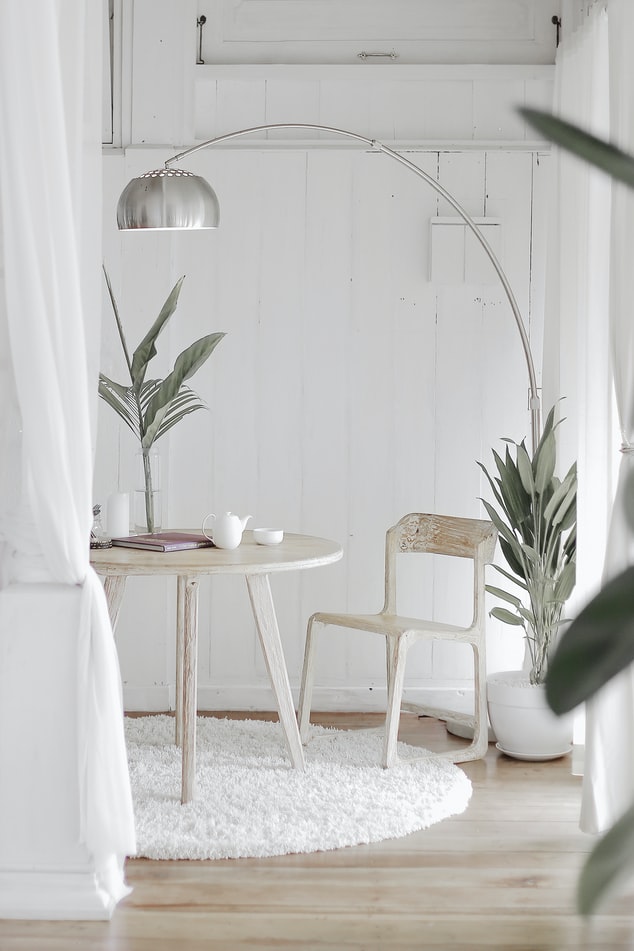 Color Scheme
When it comes to color, the Nordic palette is pretty limited for inside spaces. Whites and greys are popular choices because of their elegant simplicity, but you can also use colors like light blue or green if they work within the scheme of your home decorating style. Black, grey, beige, and white are the most commonly used colors in this theme. Nordic is simple and sleek. The metallic tones are the accent shades in the Nordic interior theme. To incorporate the Scandinavian interior style in your go for simple solid colors in metallic or earthy tones. White is also the widely used shade in this home design. Colors are used sparingly here. Only simple and dark hues are used. Colors such as brown, green or blue are popular with this design theme.
The Kitchen
Nordic-style kitchens are clean and stylish with few fancy features, which means all the details have to count! Create a beautiful kitchen by using soft hues of color like pale pink or dusty blue as your main colors. Choose natural materials that maintain a raw feel, such as concrete countertops, unfinished wood cabinetry, and marbled or wooden floors. Natural material jute runner rugs on the floor and natural fibers in your chair covers will add a touch of texture. The wood accents and other natural materials will help create a feeling that the kitchen is part of nature.
The Living Room
In this style room, you can bring in your favorite cozy touches with Nordic-style furniture pieces such as an oversized armchair or sofa and a fireplace to keep it warm or cold days. You'll also want two opposite colors on your walls - one light and the other dark. Simple and cozy furniture pieces should also be added to the space. It is important to consider how you plan on using your room when decorating it with Nordic furniture and accessories. For example, if you are a big reader, then a recliner or sofa might not be the best choice for that area of your home as this can lead to discomfort in those who read in that spot for long periods. Big furniture pieces should be used sparingly in the space to keep it from looking too cluttered. Incorporate your favorite cozy touches such as an oversized armchair or sofa, a fireplace, and two opposites' colors on your walls with simple yet comfy furniture pieces added to the space. The Nordic style is thought to have originated from the Scandinavian countries. It emphasizes simplicity, clean lines, and often stark contrasts of color. The rooms are designed with large windows or many different sized ones to enter plenty of natural light. In a room, you may see an open space for bookshelves, artwork, and furniture instead of the traditional closed-in walls. The furniture is designed with functionality in mind to fit the space and needs of the family living there.
In the End
Thanks for reading our guide to decorating with Nordic style. We hope you have found the information insightful and that it inspires your creative process in designing a space that is right for you! If you want to buy some simple cozy rugs, we recommend checking out what RugKnots has available.