9 Affordable Housing Options for Students
The outcomes of a student's life, including academic success, are closely related to their housing and neighborhood situations. Housing conditions not only affect young children as it can extend all the way into their college life. Although college life can be exciting and a chance for students to become independent, finding an affordable housing option can be a challenge.
Living on your own gives you an opportunity to learn many important life skills. It's also the best time to learn about financial budgeting and establishing good credit to prepare yourself for your next phase of life.
Here's how you can find affordable housing options whether you choose to stay on or off-campus: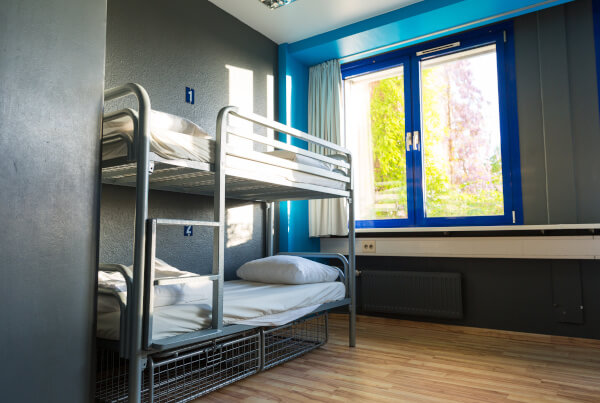 Off-campus housing refers to student housing that's situated outside the campus. These can be apartments or boarding houses, which can vary in size and the amenities offered.
As the cost of tuition rises, the amount of money that is required to fund colleges also increases, coupled with the number of people applying for financial aid, many schools are turning to on-campus living as an alternative. Many schools are also making it easier for prospective students to live in a dorm or live on campus.
There are many off- and on-campus housing options for students. Depending on their needs and location, there could be one or two that can be used to meet the students' needs. The following is a list of housing options you can choose from—the first five are off-campus housing options followed by four on-campus options.
Apartments and Rental Houses

Off-campus apartment complexes are usually owned by private companies, which means they are managed by a housing authority. These housing authorities usually set their own rules and regulations, as well as amenities and pricing, to maintain good relations with their tenants. In some cases, students will be responsible for all utilities, although there are exceptions where a landlord will allow for a certain percentage of the cost.

Living in an apartment allows a student to have their own personal space, while also sharing the apartment with other students. There are a variety of apartments to choose from, depending on the size of the property and the type of tenants that live there. Some apartments provide laundry facilities and security services as well.

Studio Rentals

If you're concerned about keeping your privacy, you may opt to rent a studio apartment. Unlike one-bedroom apartments, a studio should come with a single room, which already has a living, kitchen, and sleeping area with a private bathroom. Note that renting a space alone can be quite expensive since the rent and utility bills will solely be your responsibility. However, if privacy is a concern, then the price could still be worth it.

Rooms for Rent

It should be easy to find a rental room within houses near schools. Some homeowners open up a room or two for rent for college students. Although you may need to share common areas with the owners of the house, this could still be a good option that provides better privacy than a dorm.

Home Rentals with Roommates

A common way to minimize living costs is to share a house or apartment with other people. Many rental apartments have several bedrooms, which can make rent significantly more affordable. An off-campus rental may be a good housing option for students who are looking for freedom, but it certainly comes with a higher responsibility.

Living with Parents or Relatives

If you're fortunate enough to attend college close to your home, you may just consider living at home with your parents to save money. You could also ask to stay with relatives or family friends while you're studying in college.

Dorms and Residence Halls

Dorms have become an integral part of many students' college lives. First year students usually choose to stay in dorms because they can mingle with other freshmen and supportive staff to make their shift to college life a lot smoother. However, you need to remember that dorms can vary in terms of facilities and amenities depending on the location, the year they were established, and whether they have a dining hall or not. Before deciding on a particular dorm, ensure that you know what you're getting for the price you'll be paying.

If you'll be living in a dorm, here are the general things you can expect from dorm life:

Shared Living Space: Many dormitories are designed to have a shared living space with roommates and either a common bath or a suite bath. Residence halls and dorms usually have a bed, dresser, and desk. However, you can't expect to have a kitchen, although some dorms may have a personal refrigerator and microwave with a shared kitchen facility.

Roommates: You can expect to share the room with at least one roommate unless you have a bigger budget. To choose a roommate, you can either select randomly or select a specific person beforehand. Regardless of your choice, sharing your space with someone will teach you important lessons about cleanliness, respect, and courtesy.

Amenities: It's important to check the amenities available in your chosen dorm. Many dorms are equipped with shared media rooms, study rooms, or computers for students' use. Living in a dorm may also come with the advantage of having a campus meal plan. Also, depending on your school size, they can provide various dining options all around the campus. You may also want to check the security of the dorm you're staying in. Some may have on-duty campus police and most of them have secure entrances and exits.

Greek Housing

Students who are interested in joining a sorority or fraternity may want to consider staying in Greek housing. This on-campus housing option offers the chance to stay near or within the campus and be close to friends. Fees and dues every semester may vary greatly but most members will have security, a meal plan, and access to several amenities.

However, it's worth noting that many Greek societies will charge other fees to maintain your membership. So, it's best to consider this additional expense before deciding on this housing option.

Although Greek housing are usually offered to sophomores and upperclassmen, you'd want to ask your organization for availability. The available room styles may vary, and you can find both private and shared rooms. Because events and meetings are usually done in the house, this option can be an excellent way to hang out with friends every day.

Housing Cooperatives

Some colleges also have housing cooperatives that are composed of student members. Co-ops are a common affordable housing option for students since they contribute to running the building and sharing the costs involved.

Just like dorms, co-ops come with shared common areas that encourage helping each other and providing a sense of community. There is a social aspect to co-op living since you'd have to expect member meetings, group tasks, and social events. If you're willing to help out and play your part in the community, then residing in a cooperative housing could be a great option for you.

Student Family Housing

There are many schools that offer accommodation for families and couples. You may be eligible for one, depending on your qualifications. Some of these units are apartment-style with multiple bedrooms and full kitchens, so that the families can stay comfortably. Some of these housing units are built in neighborhood-type complexes with various amenities and buildings such as playgrounds for kids.
College life may sound intimidating, but with relevant information, making an informed decision should be manageable.
College life can be both fun and challenging at the same time. If you're looking for an accommodation that's going to meet your budget, it's best to know about the different housing options near your chosen college or university. Whether you'd like to stay on-campus or off-campus, you'll want to research and explore your options early to avoid making hasty decisions.