Your first home will always have a special place in your heart, especially if you are living by yourself or with a partner for the first time. For first-time homeowners or home renters, the process of interior decorating can be intimidating and confusing, particularly if they have little prior experience with it. Here are some tips to ace your first home's décor.
1. Consider Minor Upgrades
If you have moved into your first real house, consider investing in minor upgrades such as new toilets, new hardware, and maybe some new tiling in limited areas of the house. If you are living in a rental you will have to consult your landlord about the changes that are allowed so your security deposit is not withheld when you move out.
With rentals, the changes you can make need to be done with "safe" hardware options like command tabs and they cannot be significantly structural in nature. If there are major flaws in the property you are renting, the owner will typically deal with repairs and/or upgrades.
2. Paint Changes Everything
Once you move into a house, painting is a great way to start if you are unsure of how to decorate or personalize the space. You can opt for a plain white paint or cream-colored paint (some people prefer beige as more homely and cozy) or even brighter colored paint. An expert hack to make your ceiling appear taller is to paint it a darker color and leave the rest of the walls pure white. Accent or statement walls are great if you want to position a piece of art like a painting or portrait there.
You can enlist a commercial painting contractor to advise you on the different types of paint available, especially concerning your requirements. People with young children or toddlers in the house for example are better off using semi-plastic emulsion paint varieties as it is possible to remove or wipe down food, crayon, and dirt stains easily.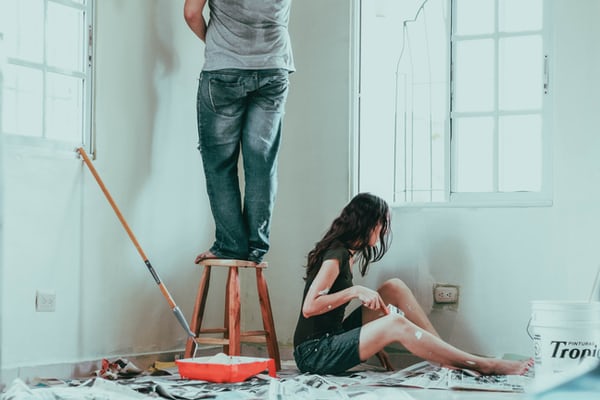 3. Get Functional & Comfy Furniture
Depending on the size of your first home, investing in some functional and comfortable furniture can go a long way. Choose pieces wisely and according to budget (don't shy away from preloved or vintage items or items that can be upcycled with minimum fuss such as with new upholstery). If you are working with a smaller space, consider having a single good couch or a chair by the window and perhaps some floor cushions for seating if more than one guest comes over.
Multi-functional furniture such as beds that provide storage or different types of shelving or even a pull-out pantry can save space and help your first home be more organized. The more organized your space is, the more seamlessly you'll be able to carry out your schedule and get work done.
4. Redo The Bathroom
For your first home, redesigning the bathroom might be a priority not just for hygiene reasons but also for purposes of modernizing the space. Consult professional bathroom remodelers on how changes like sanitary ware, tiles, and so forth can be brought about according to your budget.